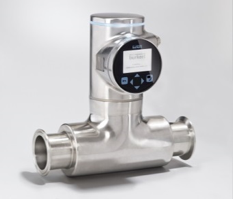 Thu 18 Jan 2018
Bürkert's FLOWave Flowmeter with ATEX Approval
Bürkert FLOWave flowmeters, have been dubbed the 'perfect flowmeter for liquid applications'. Not only that, but the Bürkert FLOWave Flowmeter Type 8098 is also now available with ATEX approval, making them ideal for use in potentially explosive atmospheres.
Bürkert FLOWave flowmeters employ the fluid control expert's patented Surface Acoustic Waves (SAW) technology, which removes any need for sensor elements to be used in the measuring tube. As Bürkert distributors, BME supplies the Bürkert Type 8098 FLOWave flowmeter with or without ATEX approval.
BÜRKERT FLOWAVE FLOWMETERS
Bürkert FLOWave flowmeters feature their Efficient Device Integration Platform (EDIP) technology. This electronic platform uses a common user interface and digital communication to make it significantly easier to use, as well as simplifying integration into a system. Specific processes are controlled based on flow rate measurements for the production of pharmaceutical agents and in all clean utilities applications.
The lightweight and energy-saving FLOWave flowmeter's superiority over some conventional flow measurement devices becomes apparent when you consider that it meets the highest hygiene standards and is highly durable. It can be operated in any installation situation and aid in the qualification and validation of production, cleaning and sterilisation processes. FLOWave flowmeters also reduces operating costs by eliminating maintenance worries.
WHAT IS ATEX CERTIFICATION?
ATEX is an acronym for ATmospheres Explosible, so when a device is recognised with ATEX approval it means that it has the capability to work within potentially explosive environments. This is down to due to the presence of substances of highly flammable devices.
Previously, only Bürkert only offered a standard version of their FLOWave flowmeter but have now developed a variant that can withstand harsh and potentially explosive conditions of ATEX zone 2. What this means is that the Bürkert FLOWave Flowmeter is not only ideal for measuring the flow of clean utilities. It is now suitable for liquids such as alcohols and solvents, paints and coatings.
ADVANTAGES OF BÜRKERT FLOWAVE FLOWMETERS
As explained above, popular flow metering technologies used currently have several limitations.
Mechanical flowmeters have moving parts that require direct contact with the fluid flow, which can cause restriction to the flow as well as hinder any hygienic cleaning process.
The more advanced non-contact technologies – such as ultrasonic, electro-magnetic and Coriolis sensors – have limitations, especially with liquids that are non-conducting, contain bubbles or debris.
Bürkert has looked to address these issues with the creation of this Bürkert flowmeter design, which has the potential to transform the market in terms of liquid flow measurement.
BÜRKERT FLOWAVE SAW-FLOWMETER – TYPE 8098
The Bürkert FLOWave Type 8098 uses Surface Acoustic Waves (SAW) technology for use in applications requiring the strictest hygienic conditions, such as pharmaceutical applications. FLOWave achieves incredible sanitary levels thanks to its all stainless steel materials, including a tube free of inner parts, and the ideal exterior design without any fixing components.
Designed for hygienic applications, and the measurement or monitoring of water similar liquids, FLOWave sets new standards in flow measurement instrumentation, offering a range of useful features, including flexibility, cleanability (CIP and SIP), compact size, lightweight, easy installation and handling, and compliance with numerous standards.
FEATURES AND BENEFITS
Precise measurement of flow in the ATEX Zone
Suitable for flow measurements of alcohols and solvents
Non0contact multiparameter measurements
Flow rate
Temperature
Density Factore
Acoustic transmission Factor
No parts in the measurement tube.
Conforms to hygienic requirements.
Ideal for low conductivity or non-conductive liquids.
Digital communication.
Compact, low weight and energy-efficient.
No pressure drops.
No leakage problems.
No dead spaces.
No replacement parts.
Greater independence from the medium.
BM ENGINEERING ARE BÜRKERT DISTRIBUTORS
Here at BM Engineering, we have an intimate knowledge of Bürkert's market-leading flow measurement devices, including the innovative Bürkert FLOWave flowmeter. With our knowledge and experience with these products, we can recommend the perfect products and solutions for your systems.
Find out more about our extensive flow measurement and instrumentation expertise. Speak to BM Engineering Supplies today about our complete range of products and services by calling 0141 762 0657 or email sales@bmengineering.co.uk.