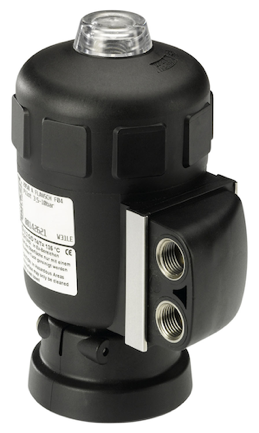 Fri 19 Jan 2018
The complete guide to actuators
Actuators are commonly used across the Process Industry. These types of motors are operated via air pressure, electric current or hydraulic fluid to control or move a system or mechanism. In this article, BM Engineering explains how actuators work and outlines the main types that are available on the market today. 
How do actuators work?
Actuators convert power, from an electric or fluid source for example, through a piston, motor or some other device to function. At their most basic form, actuators are used to make valves fully opened or fully closed. Whereas positioning regulating or control valves interpret a positioning signal to accurately move to any intermediate position.
Four main types of actuators
There are four main types of actuators. They are a combination of the type of power applied and the type of movement required at the valve:
Fluid power quarter-turn actuators – These versatile actuators can withstand considerable mechanical wear and tear and are used where simplicity and reliability are essential or where there is no available electric power. The largest are capable of producing in excess of a million inch pounds of torque. While the smallest can deliver a few inch pounds of torque. Almost all fluid power actuators use a cylinder and a mechanism to covert the linear motion generated in the cylinder to a quarter-turn motion.
Fluid Power multi-turn actuators – These types of actuators are frequently used when multi-turn output is required to operate a linear type valve (like a globe or gate valve). Electric actuators are often used for this type of valve but, if no electric power supply is readily available, hydraulic or pneumatic motors can also be used to operate multi-turn actuators.
Electric multi-turn actuators – These are one of the most common and dependable types of actuators. Capable of quickly operating very large valves, their main advantage is that all of the accessories are incorporated in the package and are physically and environmentally protected. All the basic and advanced functions are incorporated in a compact housing, which can be explosion proof, watertight and submersible.
Electric quarter-turn actuators – These are similar to electric multi-turn actuators except that the final drive element is usually in one quadrant that puts out a 90° motion. These compact actuators can be used on smaller valves and, because of their lower power requirements, can be fitted with an emergency power source (like a battery) for failsafe operation. The newer generation of quarter-turn actuators include many of the features found in sophisticated multi-turn actuators.
Featured Product – Bürkert Type 2050
Bürkert's Type 2050 pneumatic rotary actuator consists of a single or double-acting pneumatic linear piston actuator with internal quick-acting screw thread coupling to a turn element and a universal mechanical interface to DIN 3337 and ISO 5211. During the linear movement of the piston, under the pressure of the control air or the force of the return spring, the actuator shaft is turned through 90° by the quick-acting screw thread coupling. This rotary movement can be used to operate corresponding armatures such as ball valves and flap valves.
Features and benefits:
Can be combined with position feedback or control head.

Flange acc. ISO 5211 and DIN 3337.

Long life cycle.

Optical position indicator.

Pilot valve connection NAMUR.
Speak to a BM Engineering Supplies adviser today about our complete range of Actuators by calling 0141 762 0657 or email sales@bmengineering.co.uk.