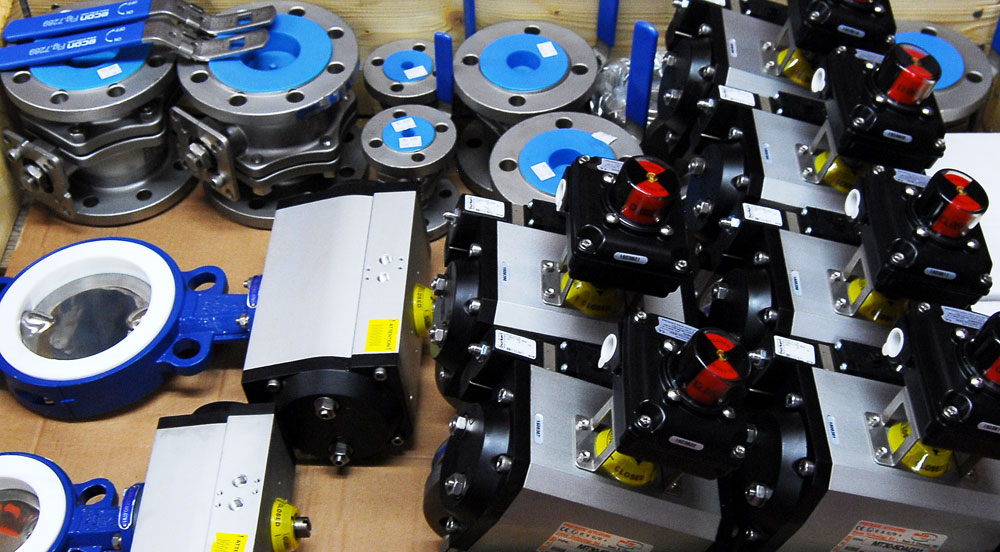 Thu 18 Jan 2018
Valve actuation packages
BM Engineering Supplies offers a multitude of valve actuation products to suit a wide range of industrial applications. Find out how our vast experience and knowledge in this area could benefit you and your plant.  
Automation in the process industry is increasingly commonplace these days. Actuators provide the ability for valves to operate at the push of a button. The reason for this requirement could be the remote location of a valve, its size, for synchronisation of multiple valves or for security to prevent any potential misuse. 
Power-operated actuators, using gas pressure, hydraulic pressure or electricity, allow a valve to be adjusted remotely, or allow rapid operation of large valves. They are often the final elements of an automatic control loop that automatically regulates flow, level or other process.
At their most basic, actuators might be required to open and close the valve or may allow intermediate positioning, while some valve actuators include switches or other ways to remotely indicate the position of the valve.
Used for the automation of industrial valves, actuators can be found in all kinds of process plants and play a major part in automating process control. They are used in waste water treatment plants, power plants, refineries, mining and nuclear processes, and pipelines. 
BM Engineering's actuator range
BME can provide a wide range of valve actuators to suit your particular application. For instance, we can supply double-acting or spring-return pneumatic actuators with an output torque ranging from 14 to 1170 NM. These aluminium alloy bodied actuators feature ISO/NAMUR pilot connections, epoxy coated end caps and easy external bi-directional travel stop adjustments.
We also stock electric power actuators with ISO 5211 mounting and square female output shafts. These AA nylon body (aluminium alloy also available) actuators give an output torque of 8-300Nm and are compatible with 110/220V AC, 380/440V AC, 12/24VDC power supplies. They feature manual override and position indicator as standard.
In addition we have diaphragm actuators that feature a multi-spring diaphragm, compact structure and great output force. With a maximum output force of 13300N, at air supply pressure of 400Kpa, these actuators come with a variety of accessories, including a manual operating device, pneumatic valve positioners and intelligent electric valve positioners.
Why BM Engineering?

BME stock quarter-turn actuators, which suit (but are not limited to) our ball and butterfly valves. We have the ability to add control and indication features such as position feedback and NAMUR solenoid valves. Various other types of actuated valves are also available on request, such as angle seat valves, globe valves, diaphragm valves, 3-way valves as well as electrically actuated valves. 
Plus, at BME we assemble and test all of our actuated packages and are the only Glasgow company to have testing facilities for AS-i and ATEX Exi valves.
Further benefits include:
Next-day courier service as standard.

Same day delivery in the Glasgow area.

Next day assembly and testing facilities for actuated AS-i, Exi and control valves.

Large stocks of stainless steel ball valves, knife gate valves, butterfly valves, non-return valves, hygienic valves, bellows sealed globe valves. 

Suppliers to many process industries, including Food and Beverage, Water, Pharmaceutical, HVAC and Chemical. 
Speak to one of BME's knowledgeable advisers today by calling 0141 762 0657 or email sales@bmengineering.co.uk. For more information please visit www.bmengineering.co.uk.test.