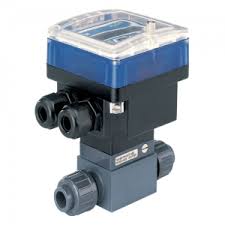 Fri 19 Jan 2018
What is instrumentation?
Instrumentation is the use of measuring instruments to monitor and control a process and an instrument is a device that measures a physical quantity such as flow, temperature, level, distance, angle, or pressure. In this blog, we give you a whistle-stop tour of some of our premium instrumentation from Bürkert.
BM Engineering Supplies delivers a broad range of quality instrumentation from Bürkert – one of the world's leading manufacturers of measurement and control systems for liquids and gases. These include pressure and temperature gauges or transmitters, flow meters, level transmitters and analytical instrumentation for measuring pH, ORP and conductivity.
The following is a selection of just some of the premium products that we can supply.
Paddle Flow Meters
Bürkert's Type 8030 Inline Paddle Wheel Flowsensor is for use in neutral, slightly aggressive, solid free liquids. It is made up of a compact fitting and an electronic module that are quickly and easily connected together by a Quarter-Turn. Bürkert's fitting system ensures simple installation into all pipes from DN 06 to 65.
Level Transmitters
The Type 8136 is a non-contact radar level transmitter for continuous level measurement. The unit is available in two versions with encapsulated horn antenna: one particularly suitable for level measurement of aggressive liquids in small vessels and the other for flow measurement in open flumes or gauge measurement in waters.
Pressure Transmitters
Bürkert's flow rate controller, Type 8750, is a system to measure and control gases using the differential pressure principle. The reliable and robust system consists of an ELEMENT continuous control valve, Type 2301, with the compact process controller Type 8693 and two pressure transmitters, Type 8323. These components are supplied within an assembled system including a special body.
Temperature Transmitters
Bürkert's Type 8400 is an intelligent sensor/switch with an extra large display. It is specifically designed to switch a valve and to establish a monitoring system or an ON/OFF control loop. Compact and wall versions are available and connections to the process in the piping are made using standard fittings. The switching points can be programmed with the three key pads or optionally, with input 4 – 20 mA, from an external PLC over a 4 – 20 mA loop.
pH/ORP/conductivity transmitters
The Type 8285 modular process analysis system is designed to measure and process liquid analysis parameters. The base unit contents the power supply, signal outputs, binary inputs and the front with backlit graphic display. Three slots are available, which depending on the applications can be occupied with modules for pH, conductivity or also with a module with additional outputs.
Speak to BM Engineering Supplies today about our complete range of Bürkert instrumentation by calling 0141 762 0657 or email sales@bmengineering.co.uk.