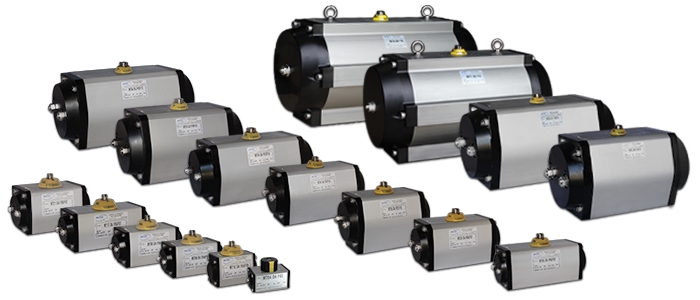 Thu 18 Jan 2018
ATEX EXD MT series actuators
When customers require an actuator with ATEX EXD capabilities, BM Engineering Supplies recommends pairing up Max-Air Technology's MT Series rack and pinion actuators and PEY02 positioner.
MT Series rack and pinion actuators
The MT Series rack and pinion actuators are the next generation of innovation. Featuring a slimmer body design, they offer easy valve integration, flexible customization, and the same reliable operation backed by the industry's best unlimited cycle life warranty.
These innovative actuators are setting the standard with NAMUR mounting for accessories and Max Air's patented ±10° adjustment for both the open and closed positions. Linear torque output is achieved in a compact design, utilising the same body and end caps for double-acting and spring-return units. 
Namur VDI/VDE 3845 and ISO 5211 dimensions are available on all sizes. Plus, no special blocks are required to mount solenoid valves, limit switches or positioners. The standard angle of rotation is 90 degrees but additional travel rotations through 180 degrees are available. 
For sizes from MT08 through MT66, Max-Air actuator valves feature dual travel stops that provide ± 10° stroke rotation on both the opening and closing phases of the actuator stroke. The equivalent of 110 degrees of travel in a standard 90 degree actuator!
Unique critical features
The female pinion drive is standard with a double-square output drive, and optional with a double-D drive, keyed drive and designs to meet your specific requirements. Shaft bearings isolate the pinion gear from the housing and support the shaft for high-cycle applications. Many competitive manufacturers do not provide this critical feature.
The pinion teeth are engaged the full length and stroke of the piston. The pinion height allows manual override without needing to remove the indicator. External open/close indicator as standard, available for all rotations. Pistons incorporate double wear pads (skates) to separate the rack from the actuator wall and serve as both guide and wear bearings.
Corrosion-resistant materials
Epoxy-coated special steel springs are pre-loaded with non-metallic materials. The stainless steel end-cap fasteners are extra long to allow for spring relaxation and all parts are corrosion-resistant. All external fasteners are also corrosion-resistant stainless steel. Air pressure operation from 2.8 to 10 Bar (40 to 150 PSI) is possible, while water, nitrogen and compatible hydraulic fluids may also be used to power the actuator. 
The extruded aluminium body is internally machined and honed to exact specifications. Honing prevents dry spots from forming within the actuator bore and therefore eliminates premature seal failure – a critical aspect to long cycle-life. All internal and external surfaces are hard anodized for corrosion resistance, with all units permanently lubricated at the factory.
All units are externally marked with a progressive traceable serial number. They are also factory pressure and leak tested, and individually boxed for shipment. Max-Air products are covered by an unlimited cycle-life warranty. Max-Air offers a wide range of adapters for many different types of valves (including butterfly valves, ball valves and plug valves), as well as a variety of pneumatic and electric automation accessories suitable for diverse industrial environments.
PEY02 positioner
For the most part, when our customers come to us for an actuated valve installation we wouldn't hesitate to suggest Max-Air Technology's MT Series rack and pinion actuators, paired with a high quality positioner from Bürkert. However, when ATEX EXD functionality is needed we turn to Max Air's PEY02 positioner, as Bürkert do not currently supply such a product. The PEY02 positioner I/P converts a 4-20mA input signal to a controlled air supply output, diverting air to either the right or left ports of the actuator as needed to achieve the desired position. 
The PEY02 also includes internal limit switches for open/close indication. The MAFRL1N14 indoor air filter/regulator with gauge ensures a clean, filtered and pressure regulated air supply to the positioner for optimal performance. Nylon tubing and brass fittings complete this fully assembled and integrated package, ready for valve mounting.
Speak to one of BME's knowledgeable advisers about our full range of ATEX EXD MT series actuators today by calling 0141 762 0657 or email sales@bmengineering.co.uk. For more information please visit www.bmengineering.co.uk.test.