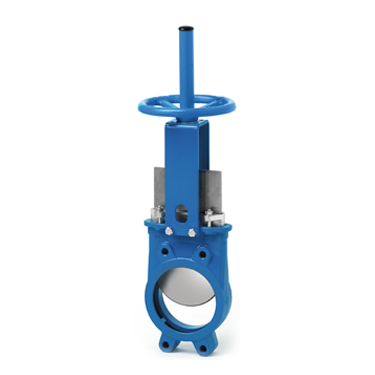 Wed 22 Mar 2023
What is a gate valve and how does it work?
Gate valves are a popular component for a wide range of applications. An economical choice for many industries, gate valves provide tight shut-off and are used in various fluid processes. So, what does a gate valve do? Continue reading this helpful guide from BM Engineering to find out how a gate valve works.
What is a gate valve?
A gate valve is a type of control valve that allows media (liquids and gases) to flow through an application unobstructed, or it is used to stop the flow. A gate valve features a straight-through unobstructed passageway which induces minimal pressure loss over the valve. This makes gate valves a popular choice for many industries and fluid applications.
One slight downside to gate valves is that they are slower than quarter-turn valves, like ball valves, so should only be used in the fully open or closed position, not to regulate flow.
How does a gate valve work?
Gate valves operate similarly to other valves in fluid applications. In order to open the valve, an operator must manually turn a handwheel which moves the gate up or down the stem via the threads. In order to fully open or close a gate valve, the handwheel must be turned more than one 360° turn. When the gate is lifted up, the inlet to the outlet, which allows an unobstructed passageway for the media to flow through, opens.
When the gate is lowered, the inlet closes and blocks the flow.
In some cases, gate valves are used to regulate flow. However, when this happens, the relatively high velocity of flow at partial opening results in wear and degradation on the gate and seat. This, along with vibrations within the gate, shortens the valve's service life. As a result, gate valves should not be used to regulate flow and should only be used for on and off control in fluid applications.
What types of gate valves are there?
There are various types of gate valves available to industries working in the control of fluid flow. They are:
Knife gate valves

Wedge gate valves

Parallel slide gate valves

Slab gate valves

Parallel expanding gates
Knife gate valve
For applications that deal with thick fluids, knife gate valves are used. In a knife gate valve, there is only one piece of metal which is pointed like a knife. Knife gate valves are self-cleaning because they pass the seat rings every time they open and close.
Wedge gate valve
Wedge gate valves have a gate in the shape of a wedge which sits on two inclined seats. As well as the primary force that's created by fluid pressure, a high wedging force on the seats assists with sealing. This is created by the tightening of the stem.
The gate doesn't stick to the seat in case of high fluid differential pressure. This results in an increased lifespan because of less abrasion on the seats.
Parallel slide gate valve
Parallel slide gate valves have flat gates that have seats parallel. They use line pressure and positioning to make a tight seal. Flat gates have two pieces and a spring in the middle which pushes the pieces towards the seats for tighter sealing. Parallel gate valves are also excellent for use in high-temperature applications.
Slab gate valve
Slab gate valves are also known as through-conduit gate valves. They are a one-unit gate that includes a bore-size hole. The bore sits in line with the two-seat rings when open, which creates a smooth flow and minimal turbulence.
The design of a slab gate valve allows for minimal pressure loss and is perfect for the transportation of crude oil and natural gas liquids.
Parallel expanding gates
Expanding gate valves have two slab gates matched together that provide sealing. When lifted, the slab gate's cavities allow media to flow through the system. The upward force on one of the slabs, paired with the stoppage of the second slab, allows for outward mechanical expansion for a proper seal.
When closed, the slab gates block the media flow, while the downward force from the stem on one slab, and the upward force in the valve body, allow for outward mechanical expansion for a proper seal.
Gate valves at BM Engineering
From brass to cast iron to cast steel, screwed or flanged, BM Engineering can provide a gate valve to suit your needs. We have a wide range of stock from leading international valve manufacturers, available at competitive prices. If you'd like to know more about the gate valves available at BM Engineering, speak to an experienced and knowledgeable sales advisor today.
Contact us on 0141 762 0657 or email sales@bmengineering.co.uk for more information.