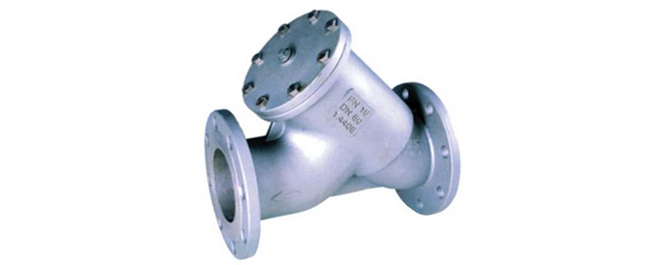 Sun 19 Apr 2020
Y-strainer vs T-strainer
Although Y-type and T-type strainers perform similar functions in pipeline applications, they each have distinctive qualities that  make them uniquely different. While both are effective industrial strainers for removing dirt from fluid systems and protecting valuable downstream equipment, it's useful to  know the differences between the two when selecting your strainer filter. 
In this article, BM Engineering Supplies discusses the differences between Y-type strainers and T-type strainers, as well as offering our guidance  on which strainer type you should choose for your pipeline application. As Scotland's premier distributor of pipeline ancillary equipment, we can share our years of industry expertise to help you understand everything you need to know about  Y-strainers and T-strainers.
What is a Y-type strainer?
Y-type strainers are used predominantly in liquid applications for protecting downstream equipment from particles, such as dirt, which might otherwise affect performance if left untreated. Most Y-type industrial strainers can also work effectively in steam applications, as well as those that deal with inert gases or air.
While Y-type strainers can be fabricated to accommodate specific application requirements, the vast majority of Y-strainers are non-customisable as standard. Y-type strainers are available in sizes from 1/4″ to 10″ and can be manufactured from a variety of materials, including cast iron and steel, bronze and AISI 316L stainless steel. They also feature either a screwed or bolted cover for screen access and to ensure that, when opened, process fluid is drained effectively.
Y-type strainer benefits
Superior flushing capabilities thanks to inherent built-in blow-down ports. 

Better value for initial costs.

Faster shipment times due to their status as set-items.

Offers more overall flexibility.

Wider selection of materials for construction.

Broader range of pressure classes.

Larger open ratio areas than T-type strainers.
What is a T-type strainer?
T-type strainers are mostly custom fabricated industrial strainers that are usually manufactured from pipe materials. This allows them to offer unique features, such as quick-opening style covers or the addition of a ventilation port and differential pressure taps.
T-type strainers can also offset the inlet and outlet by 90 degrees, which forms an elbow-shaped strainer. This can benefit applications with space constraints. Typically, they are supplied in larger sizes, beginning at 2". However, because they are fabricated industrial strainers, this generally results in extended lead times when ordering directly from manufacturers, as opposed to regional distributors such as BM Engineering Supplies.
T-type strainer benefits
Quick opening style covers.

Additional vent ports and differential pressure taps.

Higher flow capacity despite smaller open ratio areas, thanks to a straighter flow path. 

Chamber covers can be opened without process fluid draining out whilst installed horizontally–- which is beneficial in  more hazardous processes.

Better suited to  transferring fluids at higher velocities.

Ideal for larger pipeline applications which need quick access to the strain.
Y-strainers vs T-strainers: Which is better?
As to which industrial strainer type is better, it entirely depends on the needs of your business. 
For example, if you are looking for a cost-effective straining solution from  an industrial strainer that can offer more flexibility, then purchasing a Y-type strainer might be the way to go. 
Alternatively, T-type strainers would be the preference if your pipeline application deals with more viscous fluids that  need  transferring at higher velocities or a strainer that  has a higher flow capacity. 
Buy industrial strainers in Scotland
Here at BM Engineering Supplies, we stock and supply both Y-strainers and T-strainers from renowned pipeline ancillaries manufacturer, Valsteam ADCA. As the UK's premier distributor of Valsteam ADCA products, we can provide businesses throughout Scotland and the wider UK with the full range of ADCA strainers. This includes  their IS16F series cast iron Y-strainer, which is particularly useful for dealing with non-dangerous fluids in the Group 2 category. 
To purchase Valsteam ADCA industrial strainers, contact BM Engineering Supplies today on 0141 762 0657, email sales@bmengineering.co.uk or complete our contact form and a member of our sales team will get back to you.