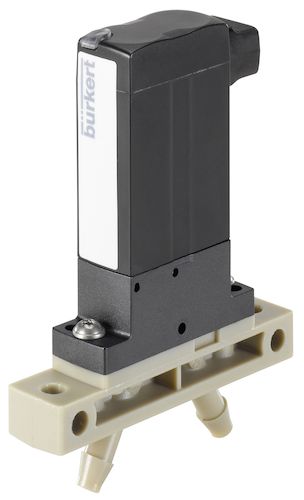 Thu 18 Jan 2018
Bürkert TwinPower valves are compact yet powerful
Bürkert TwinPower valves benefit from a two coil actuator design that has managed to achieve the twin benefits of a compact and configurable design that is still able to substantially increase power density. In this blog, we explain the various advantages of Bürkert's TwinPower technology.
Bürkert TwinPower valves benefit from a new actuator design for solenoid valves that boosts power density by using two coils. This innovative actuator technology allows for an extremely compact design, which is available as a complete standard valve line in widths of 10mm and 16mm. At last count, that opens up the possibility of 1000 possible variants for each width.
Available in PEEK and PPS body materials, as well as FFKM, FKM and EPDM seal materials, TwinPower valves provide optimal solutions for virtually every medium. The broad range of valve widths allow for different fluidic and electrical connections, such as hose connections, flanged versions and UNF threaded connections.
Bürkert critically analysed every component in the development of the TwinPower series to identify potentials for optimisation. By improving the membrane seal, for example, they were able to achieve a leakage rate of 10-6mbar*l/min. Plus, the geometry of all the bodies was optimised for improved flushability.
Bürkert solenoid valves with TwinPower actuation
The name TwinPower refers to the new actuator in the Bürkert solenoid valves, which now uses two coils instead of one. This increases the power density substantially, in a much more compact body, without any loss of power. So even with reduced width and identical pressure TwinPower valves deliver double the flow rate of comparable valves with a conventional coil system. 
TwinPower valves are also equipped with hit-and-hold electronics as standard feature. This reduces energy consumption by 75% within 100ms after switching. Bürkert TwinPower valves are therefore tailor-made for applications demanding special requirements for size, reliability, performance and energy efficiency, such as in clinical diagnosis, life science, medical and analysis technology.
Featured Product – Bürkert Type 6624
The Bürkert Type 6624 combines the reliable and successful Rocker principle with a highly innovative new actuator. The Bürkert TwinPower concept of this actuator reduces the size greatly without loss in performance. Hence the 10 mm wide medium isolated rocker valve, 6624, with a 1.6 mm orifice and a pressure resistance of 2 bar, provides the same performance as a traditional 16 mm valve. Furthermore, the integrated power reduction decreases energy consumption by 75%.

Speak to a BM Engineering Supplies adviser today about our complete range of Bürkert TwinPower Valves by calling 0141 762 0657 or email sales@bmengineering.co.uk.