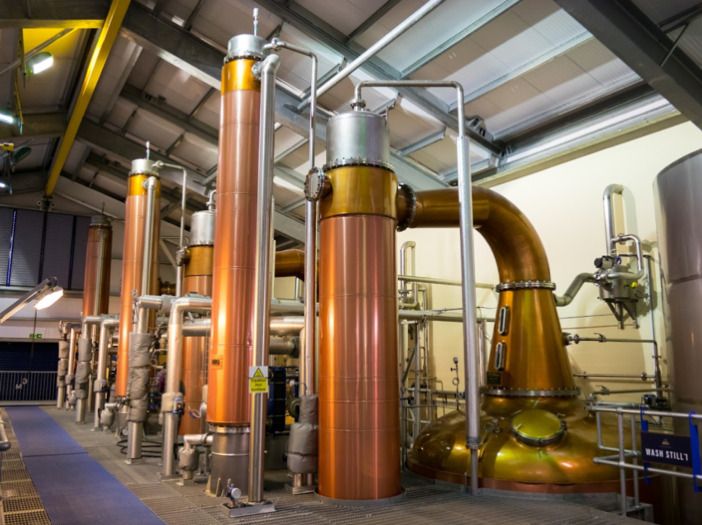 Fri 27 Jul 2018
Why choose BME for your distillery installation?
At BME, distilling is one of the biggest sectors we supply and, because of this, we pride ourselves on our distilling knowledge. For many years, we have provided an extensive range of top quality distilling supplies to distilleries throughout Scotland and the rest of the world. In this article, we will be discussing what distilling is and why you should choose BME for your distillery installation. 
What is distilling?
The general meaning of 'distilling' is to purify a liquid by heating it so that it turns into vapour. You would then cool the vapour so it condenses, collecting the resulting liquid. When we discuss distilling, we refer to the creation of alcohol; mainly whiskey! 
When creating a stronger alcohol, such as whiskey, the same process as above takes place. However, the alcohol is obtained by distilling wine, fermented fruits or other starchy substances. Although the process may sound simple, it requires a lot of high-quality and reliable equipment. That's where BM Engineering Supplies comes in! 
Distilling supplies
There is an ever-rising demand for distilling valves, instrumentation and associated equipment within the distilling sector as producing artisan alcohol becomes more popular. At BME our extensive knowledge of the distilling industry ensures we are able to supply the correct product for each stage of the process.
We can assist you throughout each stage of the distilling process, from malting through to maturation. Our high-quality equipment has been manufactured by top-name brands to suit all distillery installation demands, whether you are looking to upgrade and expand your current distilling operations or start from scratch with a brand-new distillery.
Distilling equipment from BME
The wide array of brands available from BM Engineering provides entire solutions for any distillery, in any demanding situation. If you are looking for singular or multiple products for a full distillery installation, BM Engineering has the equipment for you. Check out some of our brands below:
Inoxpa

Unitech

Orbinox

Zwick

NTC

ADCA

Max-Air
We have supplied endless distilleries in and around Scotland and one of our returning customers is Glen Moray Distillery. Take a look at their distillery case study here and read about how BME helped their distillery operations with first class distilling supplies.  
At BME, we can supply equipment and instrumentation to deck out a whole new distilling facility. Some of the equipment we provide includes: 
Butterfly valves

Check valves

Overflow valves

Knife gate valves

Ball valves

Steam control valves

Reducing valves

Strainers

Pumps

Heat exchangers 

Separators

Steam traps

Actuators
BM Engineering can provide assistance and advice about each piece of distilling equipment for your particular distillery application. For more information about our distilling supplies, contact BME today on 0141 762 0657 or email us at sales@bmengineering.co.uk