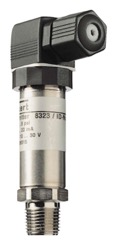 Thu 18 Jan 2018
How do pressure transmitters work?
In this latest informative blog, BM Engineering takes an in-depth look at pressure transmitters, focusing closely on how they operate. We also take a closer look at the advantages of pressure transmitters and typical uses of a pressure transmitter.
What is a pressure transmitter?
A pressure transmitter is a device that has been designed to measure pressure in liquids, fluids or gases. They are commonly used to measure pressure inside industrial machinery, in order to alert users before an incident occurs. They have a wide range of different uses, mostly of an industrial or automotive nature.
How do pressure transmitters work? 
Pressure Transmitters, a sub-group of pressure transducers, feature additional reset and calibration options. With some sensor types it is possible, for example, to re-set the measuring span over large ranges. They work by taking pressure and converting it into an analogue electrical signal.
Advantages of pressure transmitters
There are a number key advantages of pressure transmitters. Firstly, pressure transmitters measure not only pressure levels but also differences in pressure. Pressure transmitters are also very durable, being able to withstand nearly any environment and can, if needed, be completely submerged. Pressure transmitters can also be connected to other systems, such as electrical circuits.
Bürkert pressure transmitters
Bürkert Type TSD001 
Bürkert's Type TSD001 consists of a ceramic sensor, an amplifier and a transmitter. The sensor signal is amplified and the transmitter converts it into an analogue signal. The transmitter is designed for static and dynamic measurements in neutral or aggressive fluid or in gas and is characterised by a low temperature sensitivity and good mechanical properties. 
Ceramic measurement cell.

2-wire version.

Wetted part material 1.4305, ceramics, FKM.
Bürkert Type 8323
The Bürkert Type 8323 pressure transmitter is designed to cover the majority of industrial applications in the field of industrial pressure measurement. High accuracy, compact design, robust construction and flexibility make this instrument universal and suitable for different measurement functions. The piezoresistive sensor element is used for measuring ranges up to 16 bar and thin film sensor element for the measuring range of 25 bar. 
Piezoresistive or thin film sensor element.

Available with hygienic flush diaphragm.

Housing and wetted parts in corrosion-resistant stainless steel.

Standard signal 4…20 mA for connection to automation-systems.

Plug for quick installation and service.
Contact BM Engineering today
For more information, and in-depth support and guidance, about our complete range of pressure transmitters, please contact us today. You can speak to one of our knowledgeable technical experts here at BM Engineering Supplies by calling 0141 762 0657 or by emailing sales@bmengineering.co.uk.