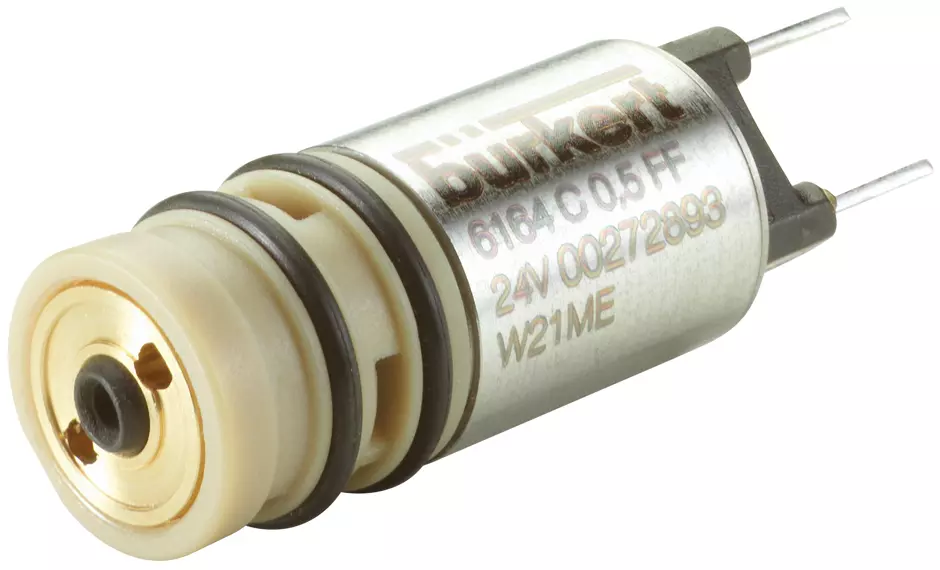 Thu 18 Jan 2018
Space saving new cartridge valve from Bürkert
It's no surprise that we rate Bürkert's solenoid valves so highly here at BM Engineering. After all, they've been raising the bar in solenoid valve design for decades. The launch of their new Type 6164 cartridge valve heralds yet another leap forward, and is now available from us at BM Engineering Supplies.  
Bürkert's new Type 6164 cartridge valve is a pneumatic pilot valve where the solenoid and precision moulded plastic valve body slot directly into any custom manifold. The Type 6164 provides the best opportunity yet for OEM process and machine designers to move away from external packaged pneumatic control valves, thanks to its outstanding reliability, above-average service life and efficient performance. 
Space saving cartridge solenoid valve
Due to the increasing importance of space considerations, weight and energy saving requirements, customised pneumatic control solutions are becoming more commonplace. The diminutive size of the new cartridge valves makes them ideal for use in multiples within compact manifold block solutions, where they can easily be positioned and integrated wherever it is most convenient.
This saves costs on materials and reduces the overall weight and size of the system or device. In addition to the use as the "core" of future Bürkert valve islands, the valve is now being made available as a stand-alone component.
Another reliable Bürkert solenoid valve
Due to a wide range of conformance certifications, they can be used for general pneumatic piloting on machine, plus pharmaceutical production applications and for medical devices. Typically instances such as dental technology or in oxygen control units for mechanical ventilation for example.
The long life cycle and reliability claims are based on testing to more than 100 million switching cycles. The performance figures are based on switching times for opening and closing the valve of around 10 ms at a pressure of 1 bar and a temperature of 20 °C.
The standard cartridge valve also scores points due to its high flow rate, pressure range and energy efficiency. The standard version covers the pressure range from -0.8 to 9 bar with a power consumption of less than 0.7 W. The valve body is made of PEEK and the seal of FKM. It is available in orifice sizes from 0.5 to 1.2 mm and with an operating voltage of 12 and 24 V DC.
Buy Bürkert from BM Engineering

Having been established for over 40 years in the United Kingdom and Ireland, Bürkert have worked hard to develop and build an experienced premier and partner distribution network. BM Engineering Supplies and Bürkert have a long established distributer partnership, which means you do not have to look far to source Bürkert's cutting edge merchandise. 
Bürkert's expertise in the fluid control sector means that whether your application is filling, level, flow, pressure or temperature, together we can offer you a solution and a uniquely comprehensive range of products to handle it. These include solenoid, process and analytical valves, pneumatic actuation, sensors and controllers.
As a trusted Bürkert supplier, BM Engineering Supplies can also offer you their full range of steam valves and clean steam expertise. From large scale bespoke projects, to miniature OEM solutions, we can offer you a bespoke Bürkert steam valve solution for the most effective clean steam control and measurement applications.
Speak to BM Engineering Supplies today about the Bürkert Type 6164 cartridge valve by calling 0141 762 0657 or email sales@bmengineering.co.uk.