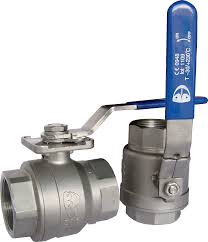 Thu 18 Jan 2018
Unitech Stainless Steel Screwed Ball Valves
Ball valves come in an array of different shapes and sizes. In this article, BM Engineering Supplies looks at the various high performance ball valves available from Unitech SRL, including their stainless steel screwed ball valves and wafer PN16 ball valves.

A ball valve is one of the most effective shut-off valves available. They provide leak-proof service, can open and close quickly and allow flow in either direction – unlike a gate or globe valve. BM Engineering Supplies stocks a wide range of ball valves, from ¼" to 6″ at our works in Bishopbriggs.
From general purpose two-piece ball valves, v-ball control valves, hygienic valves, to heavy duty ball valves for steam, we have a variety of sizes, end connections and materials to suit many applications.
Unitech's SF2 and SF2T stainless steel screwed ball valves

Unitech's SF2 and SF2T stainless steel screwed ball valves are an excellent choice for a wide range of
general purpose applications such as water, steam condensate and chemicals.
Features and benefits
316 s/s construction.

PTFE seats.

PN63 pressure rating.

Connections in screwed BSP are stocked (socket weld also available).

Lockable lever operated.

Atex approval.

Optional ISO 5211 direct mount version available.

Three-way versions available (L-port or T-port).
Wafer PN16 ball valves
BM Engineering Supplies also stocks Unitech wafer PN16 ball valves, which serve as a good option for when butterfly valves are not small enough (such as 1" and ¾"). We also supply wafer ball valves up to 4".
Who are Unitech SRL?
Based in Genoa, Italy, Unitech SRL are a leading supplier of high quality manufactured valves and products for the process industry. Unitech's products are produced to 97/23/EC 'PED' and 94/9/EC 'ATEX' in compliance with ISO 9001:2008 standards. 
BM Engineering Supplies and Unitech's relationship dates back to when we were first established, and our long standing partnership means that we can consistently supply quality products from a partner you can trust.Speak to one of BME's knowledgeable advisers about your requirements today by calling 0141 762 0657 or email sales@bmengineering.co.uk. For more information please visit www.bmengineering.co.uk.test.