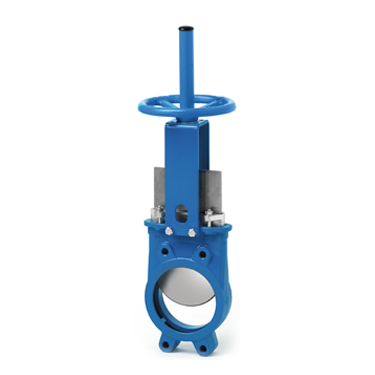 Sat 9 Jan 2021
Why choose an Orbinox knife gate valve?
The brand name Orbinox is synonymous with high quality knife gate valves. If you work within a processing industry where the media flow is viscous and you have to deal with the challenges brought about by suspended solids, then you will likely already be familiar with Orbinox knife gate valves. We take a look in this article at why Orbinox are so well respected for their knife gate valves, how their development into this industry came about, and why Orbinox knife gate valves are the sensible choice. 
What is an Orbinox knife gate valve?
Developed for use specifically within processing plants dealing with slurry and thick liquids containing an element of solids, knife gate valves are designed to be open or shut valves, often used for process isolation. A knife gate valve has a sharpened leading edge on the disc that shuts off flow, meaning that it cuts easily through any solids, ensuring that the valve can create a full seal without solids being trapped between the gate and the seat. Orbinox knife gate valves are designed for use in a wide range of industries, including water treatment, mining, power generation, paper and pulp, petrochemical, steel, hydro solutions and food processing. 
Why Orbinox?
Orbinox began life in the 1960s as a business that manufactured industrial valves to fulfil the demand of their local paper industry. The roots of Orbinox knife gate valves, therefore, go back 60 years. Orbinox is now the leading knife gate valve manufacturer in Europe and has a reputation for knowledge and expertise to back up their position as the market specialist. With a presence in more than 70 countries worldwide, their headquarters are in Spain, and BM Engineering are proud to be Scotland's Orbinox knife gate valve distributor.
Which Orbinox knife gate valve?
We stock a wide range of knife gate valves at BM Engineering, and with Orbinox knife gate valves selected as our key brand of choice, you will find the right solution for your application through us. The Orbinox knife gate valves that we stock include the EX model, a uni-directional wafer valve designed to ensure a non-clogging shut-off on suspended solids. Used in industries such as power plants, pulp and paper, bulk handling and chemical processing, the EX model Orbinox knife gate valve is available in DN 50 to DN 1200 and offers a range of working pressures. The EB model Orbinox knife gate valve is also a bi-directional valve and is designed for general industrial service applications such as wastewater treatment, chemical plants and food processing. With working pressures available from 2 bar through to 16 bar, the EB Orbinox knife gate valve is a great all-round solution.
Orbinox knife gate valves from BM Engineering
If you require an Orbinox knife gate valve, but you would like some guidance on which one is right for your working environment and application, our engineers work closely with Orbinox and would be happy to offer advice to ensure you end up with the most suitable Orbinox knife gate valve for your requirements. Call us on 0141 762 0657 for a more detailed discussion.