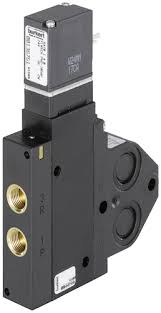 Thu 18 Jan 2018
BM Engineering creates purpose built Namur solenoid valves for world's biggest spirits manufacturer
BM Engineering Ltd (BME) and Bürkert teamed up to develop a purpose built 5470 Namur solenoid valve solution for the intricate valve specifications of a distillery expansion project for the world's biggest spirits producer. The result was a bespoke, compact solenoid valve that delivered the perfect double of cost-effectiveness and easy installation.
Quarter turn valves with speed restrictors

This particular distillery's exacting specifications involved a requirement for quarter turn valves, like ball and butterfly variants, to be operated through AS-i or an intrinsically safe barrier with Namur mount solenoid valves with speed restrictors in order to control the opening and closing speed of the valve and prevent water hammer.
While it can be beneficial to attach a needle valve to the inlet port for regulating air flow to the actuator, attaching a needle valve to the exhaust port on a single-acting actuator is less effective. This is because the springs overcome the air flow and push the actuator closed quickly. 
The spirits manufacturer's initial solution was to suggest installing a Norgren Flow Regulator Plate alongside a 6519 solenoid valve. However, they quickly realised that this type of approach would prove costly and bulky.
"The solenoid valve that we normally use, the Bürkert 6519 solenoid, doesn't have speed restrictor features," said BME Sales Engineer, Scott Miller. "Our customers told us about what our competitors were offering, which was the Norgren Flow Regulator Plate. So we took matters into our own hands and co-developed a solution with Bürkert, which offers speed resistant functionality at a fraction of the cost."
Bürkert's 5470 Namur Solenoid Valve
Bürkert's 5470 Namur consists of a type 6104 pilot rocker solenoid valve and a pneumatic valve. An armature with a tilting bearing, similar to a rocker, tilts within the body of the pilot valve, and switches the valve. The minimal tilting movement of the rocker is non-wearing and basic lubrication is unnecessary. 
The type 5470 R is available as a 3/2 and 4/2-way valve and the valves can be mounted together individually using the module flange. In various applications, they can be used advantageously as valve blocks and different variants are available for service ports two and four.
"The Bürkert 5470 Namur has integrated air flow restrictors for both opening and closing operation of the valve, which – as far as we know – is the only Namur solenoid valve on the market with this feature," continued Scott.
Bürkert UK also pre-wires the IFM cables to the solenoid plug by a heat moulding technique. This gives an IP67 rating and eliminates the possibility of loose wiring, as well as providing a streamlined installation process.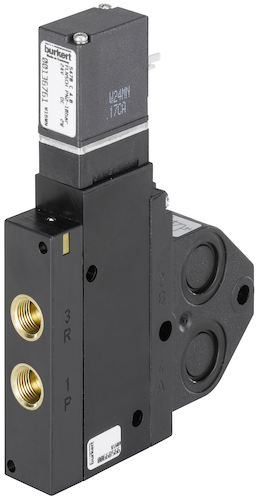 Greater durability and considerable time savings
Dropping the Norgren and 6519 combination, in favour of installing Bürkert's 5470 Namur, resulted in impressive cost savings. "You're looking at around £70 for an intrinsically safe 6519, plus around £30 for the Flow Regulator Plate. So that brings your costs up to about £100. On top of the solenoid valve that makes it about one and a half times dearer than the 5470s. On that project alone there was around 40 ¼ turn valves," said Scott.
BME and Bürkert pushed the envelope further still to accommodate the spirits manufacturer's requirements by integrating pre-wired IFM cables into the design. This resulted in greater durability and considerable time savings, compared to when BME previously wired the cables themselves.
"The customer wanted AS-i or intrinsically safe, depending on what ATEX zone they were in," added Scott. "So the sensor on top of the actuator, which links up to the solenoid valve, is an IFM sensor. We were originally getting the IFM cable from the sensor, stripping that cable and wiring them in to the DIN plug for the valve.
"It's tricky because they are very small plugs and very time consuming to wire. Also, the first lot of valves that we sent up resulted in the wires coming loose after a while. So we coordinated with Bürkert once again to implement the solution of heat moulding the cables in. That makes it much more durable and saves us the time of having to wire it in.
Features and benefits
Compact design in 3/2 and 4/2-way versions

Extendable valve block

Reduced power consumption

Different pneumatic connections available

Robust.