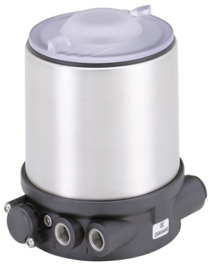 Thu 18 Jan 2018
Bürkert diaphragm valves prescribed for pharmaceutical production line
In this blog, we take a closer look at Bürkert's range of diaphragm valves, which were used for an automated production line at Unither Pharmaceuticals. Within the pharmaceutical industry, Unither is a world leader in the manufacture of dry and liquid formulations including tablets, powder stick packs, creams and more. One of their plants in Gannat is a specialised production site for the manufacture of pharmaceuticals. The company wanted to modernise their production equipment, so they decided to fully automate their production line and this is where Bürkert's product line came in.
Diaphragm Valve Suppliers
Bürkert supplied a large range of different Bürkert diaphragm valves and drain valves for Unither. The full spectrum included a tank bottom drain valve type 2105, zero static T-valve type 2104, a 2-way manual and automatic diaphragm valve types 3233 and 2103, as well as the multi-port ELEMENT valve block, type 2034. As Diaphragm Valve Suppliers, BM Engineering can supply this entire reliable range of valves.
Below is more product information about some of our Bürkert range:
Bürkert Control Head – Type 8691
Bürkert's ATEX approved control head Type 8691 is designed for the decentralised automation of ELEMENT type pneumatic process valves. The registration of the valve end position is carried out via its contact-free analogue position switcher which automatically recognises this and saves the valve end position through the teach function on start-up. The integrated pilot valve controls both single and double-acting actuators and comes with a coloured illuminated status display.
Bürkert Diaphragm Valve – Type 3233
The Type 3233 stainless steel Bürkert Diaphragm Valve is a reliable, compact valve that is available in various surface finishes. To enable high flow capacities and for a variety of different applications, the valves have no dead volume and can be mounted, in order to be self-draining. These diaphragm valves are also autoclavable and have FDA quality certifications.
Bürkert Diaphragm Valve – Type 2103
The Type 2103 diaphragm valve is an externally piloted valve that consists of a diaphragm, operating piston actuator and 2-way valve housing made of cast stainless steel. These stainless steel covered high-quality actuators have been developed for use in hygienic or aggressive environments. The fully integrated system has a smooth and compact design, which includes integrated pneumatic lines, superior chemical resistance and an impressive IP65/67/NEMA4X protection class.
Speak to a BM Engineering adviser today about our complete range of Bürkert diaphragm valves by calling 0141 762 0657 or email sales@bmengineering.co.uk.