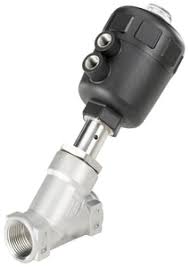 Fri 19 Jan 2018
Choosing a Bürkert angle seat valve is all material
Bürkert's Type 2000 angle seat valve delivers a cost effective solution by offering a wide range of high quality, fully tested valve body and valve seat materials, as Ian Webster, Hygienic Segment Manager for UK & Ireland at Bürkert Fluid Control Systems, explains.
Process engineers are required to deliver a difficult balancing act that requires a robust and reliable process to be maintained while keeping costs to a minimum. Sometimes a short-term view may identify some cost savings when replacing components with lower cost items within in the process control system. However, looking at the operation from the point of view of total cost of ownership (TCO) this may reveal a false economy in the long run.
Quality valves can offer protection for the workforce and the bottom line
One example of this would be process control valves, many of which may be very similar in outward appearance, but taking a closer look can reveal some significant design characteristics that can affect performance and reliability. The materials that are used to create the various components of the valve dictate the range of suitable applications in which it may be used. Manufacturers should provide details of these materials and their properties to simplify the selection process.
Since the properties of the media that is being manipulated by the process control system are known, it is the responsibility of the process engineer to select the most appropriate design, based on this knowledge. Two of the most pertinent factors are temperature and chemical composition as these have a significant influence on the materials that can be included in the design of the control valve.
Control valves that are destined for operation with aggressive fluids or extremes of temperature must be equipped with the correct seal materials and constructed from high quality materials in order to deliver reliability and efficiency. Production downtime caused by a faulty control valve can result in substantial costs, so quality valves can offer protection for the workforce and the bottom line.
Bürkert Type 2000 angle seat valve offers cost effective solution
In designing the latest version of its enduring Type 2000 angle seat valve, Bürkert has invested in the technology and the equipment required to produce a cost effective solution by offering a wide range of high quality, fully tested valve body and valve seat materials. In order to provide its customers with the highest quality guarantee, the company has invested in considerable production assets in Europe where quality control and design integrity are held paramount.
The designers specified valve spindle seals manufactured from PTFE as standard but these can also be delivered with FKM or PEEK seals and wipers. The seal on the actual valve seat is usually made from PTFE but other options include NBR, EPDM and FKM, all of which offer additional benefits for certain applications; making the correct choice will have a dramatic effect on the reliability and performance of the control valve.
Improved space saving valve body design
The latest Type 2000, pneumatically actuated, angle seat valve retains the excellent performance and reliability characteristics of the previous model while benefitting from an improved space saving valve body design. In addition, the valve can now be complimented with a range of control heads, feedback units and stroke limiters, to improve integration with the wider process control system.
With such a successful history as the Type 2000, it is important that any customer who is looking to replace an existing component will experience the same or higher levels of reliability and accuracy with their new, replacement valve. Selecting the most suitable combination of materials for a particular application can often result from taking expert advice at the outset where confidence in the solution also comes from a belief in the manufacturer's ability to deliver high quality products.
Speak to BM Engineering Supplies today about our complete range of Bürkert instrumentation by calling 0141 762 0657 or email sales@bmengineering.co.uk.