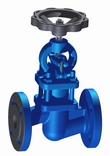 Thu 18 Jan 2018
Double block and bleed globe valves for steam isolation
In this latest blog instalment from BM Engineering Supplies, we look at the merits of using two bellows sealed globe valves in a double block and bleed assembly for applications requiring steam isolation. Read on to find out how we use globe valves from Polish firm Fabryka to deliver a high performance double block and bleed solution. 
Double block and bleed valves replace traditional techniques used by pipeline engineers to generate a double block and bleed configuration in the pipeline. Used for critical process service, double block and bleed valves are for high pressure systems or hazardous fluid processes. 
Applications using double block and bleed valves include instrument drain, chemical injection connection, chemical seal isolation and gauge isolation. They can be particularly useful in the realms of steam applications.
Double block and bleed for steam isolation
"We have found an incredibly simple yet effective solution for customers requiring steam isolation is to employ two globe valves for double isolation," according to Scott Miller, Sales Engineer at BM Engineering Supplies. "This ensures that the steam is out of the line before entering the stills. We simply use a double block and bleed assembly, which uses two handwheel operated globe valves either side of a spool piece, with a bleed port for isolation.
"Plants use this to isolate steam, so that they can work further down the line. A good example of this is for vessel entry, where the double block and bleed system ensures that someone can get inside a vessel that would normally be heated by steam," adds Scott.
"As the steam goes into the vessel, the shut-off valves open the bleed," continues Blair Miller, Director at BM Engineering. "So the steam comes through the bleed valve, making it safe to enter the vessel from there. In this case, we use bellows sealed globe valves, with a spool piece in between that acts as the bleed element.
"This type of set-up is also ideal for mains isolation," says Blair. "Mainly on steam down the line as a safety feature. A new law has actually recently been passed that means that steam applications require this type of double block and bleed configuration," he adds.
Bellow seal valves from Fabryka 
Fabryka Armatur "Glucholazy" has been manufacturing valves since 1919 and is a market leader on the polish market. Fabryka offer a wide range of high quality industrial fittings, with a view to producing reliable, safe and environmentally friendly fittings. BM Engineering Supplies uses Fabryka's 450M and 218M straight through bellows sealed globe valves with flanges in double block and bleed applications.
These bellows sealed globe valves can be installed in any position on the pipeline, paying attention to correct flow direction of the medium. They are designed to close the flow of media; especially in the case of hazardous media, such as steam. It is also possible to throttle the medium flow with a regulating disc. These globe valves promise a longer life cycle and a reduced number of seals, providing full tightness. 
Fabryka globe valves are suitable for water, sea water, steam, oil and other non-aggressive fluids and gases with an operating temperature ranging from -10° C up to 450° C.
Speak to BM Engineering today
If you're in any doubt about which type of globe valve to opt for, or would simply like more information and guidance about our double block and bleed assemblies, BM Engineering would be only too happy to chat through your options with you. Speak to a BM Engineering Supplies adviser today about our complete range of Globe Valves by calling 0141 762 0657 or email sales@bmengineering.co.uk.