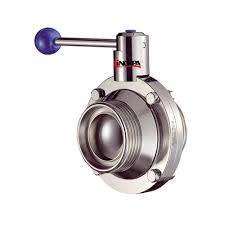 Fri 1 Feb 2019
How hygienic valves from INOXPA can benefit your industry
If you're looking to improve hygienic processes within your applications, consider using quarter-turn valves. When delicate precision is required, the ability to manually actuate hygienic valve types like ball valves and butterfly valves places control firmly in your hands. For achieving sanitary perfection, we recommend using ball and butterfly valves from hygienic specialists, INOXPA. In this article, BM Engineering explains the benefits of INOXPA hygienic valves and how they can ensure your applications remain contamination-free.
The benefits of INOXPA hygienic ball valves
INOXPA hygienic ball valves, whether manually or automatically actuated, are primarily used in conjunction with viscous fluids that contain solid particles. The most prominent model in INOXPA's process valve catalogue is the 6400 hygienic ball valve. While it's primary use is for clean-in-place (CIP), the best use of these particular hygienic ball valves is in applications requiring unobstructed flow. Typically, these applications are in industries such as food processing, cosmetics and chemical processing.
When operated, the manual handle blocks these hygienic ball valves in the "open" or "closed" position. The attached actuator then transforms the axial movement of the piston into a 90-degree movement, which, in turn, is transmitted to the ball. Manufactured from AISI 316L stainless steel for optimal cleanliness, INOXPA 6400 hygienic ball valves boast a compact and robust design. This reliable control valve performs consistently in environments requiring the most intricate levels of accuracy. 
The benefits of INOXPA hygienic butterfly valves
However, if you desire quicker shut-off and a more cost-effective solution overall, we suggest opting for hygienic butterfly valves. Much like its ball valve counterpart, the INOXPA 4800 hygienic butterfly valve can also be used in most liquid product applications. Although not specifically dealing with viscous fluids, these hygienic butterfly valves have more of a generalist appeal. This means they can be used across a variety of different fluid applications within the same industries, whilst maintaining all the same benefits as the 6400 hygienic ball valve.
Alternatively, if you require a more specialist hygienic butterfly valve, then INOXPA's double butterfly valves might be a possible solution. The LBV (Leakage Butterfly Valve) offers easy and safe separation of liquid products and prevents accidental mixing should gaskets fail. This particular feature makes it a desirable attribute for hygienic applications that need the utmost care and due diligence. The most typical uses of LBV hygienic butterfly valves are for CIP solutions in a single point, CIP returns at the end of manifolds or as the entry of a CIP solution into tanks. 
Leading UK supplier of hygienic ball and butterfly valves
BM Engineering supplies a wide range of hygienic ball valves and hygienic butterfly valves, including those manufactured by INOXPA, as featured in this article.
To purchase hygienic ball or butterfly valves in Scotland and the UK, or to learn more about our range of INOXPA hygienic products, get in touch with BM Engineering supplies today on 0141 762 0657 or email sales@bmengineering.co.uk.