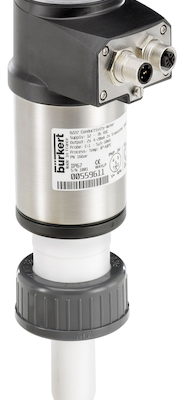 Thu 18 Jan 2018
Instrumentation and control basics
Choosing the right instrumentation for an application is a critical decision. So BM Engineering Supplies has compiled a handy guide to the basic functions of all our most popular instrumentation to help you to make an informed choice. 
All of our premium instrumentation comes from Bürkert; one of the world's leading manufacturers of measurement and control systems for liquids and gases. With their market leading products, and our expertise and guidance, you're sure to receive the best instrumentation and advice each and every time.
However, if you're not sure whether it's a level transmitter or a flow meter that you need, then read on for a full explanation of every piece of instrumentation that BM Engineering Supplies can deliver to you. Of course, don't forget that our friendly and knowledgeable advisers are just a phone call away, on 0141 762 0657, and will be only too happy to talk you through your options.
What is a conductivity transmitter?

Conductivity is the measure of a solution's ability to pass or carry an electric current. There are two basic sensor styles used for measuring conductivity: contacting and inductive (toroidal and electrodeless). When contacting sensors are used, the conductivity is measured by applying an alternating electrical current to the sensor electrodes (that together make up the cell constant) immersed in a solution and measuring the resulting voltage. The Bürkert transmitter Type 8222 is a compact device designed for measuring the conductivity of fluids – read all about it here.

What is a flow meter?
A flow meter (or flowmeter) – like Bürkert's Type 8051 full bore magflowmeter – is an instrument used to measure linear, nonlinear, volumetric or mass flow rate of a liquid or a gas. Some flow meters measure flow as the amount of fluid passing through the flowmeter over a given time period, such as 100 litres per minute. While other flow meters measure the total amount of fluid that has passed through the flow meter, such as 100 litres. Read more about the Type 8051 here.

What is a pressure transmitter?
A pressure transmitter, or digital pressure gauge, is a device that measures pressure in a liquid, fluid, or gas. There are more than 50 types of pressure transmitters that all work differently. Some measure high speed changes in pressure and depend on piezoelectric materials, while gauge pressure sensors rely on pure air pressure to move a meter and can be calibrated to a specific atmospheric pressure. We can supply a wide range of Bürkert pressure transmitters, like the Type 8750 flow rate controller that measures and controls gases using the differential pressure principle. Read more here.
What is a level transmitter?
A level transmitter is simply an instrument that provides continuous level measurement. Level transmitters can be used to determine the level of a given liquid or bulk-solid at any given time. Bürkert's Type 8175 is a non-contact filling level transmitter, designed for liquid level or volume measurement in open or closed vessels. It's available as a compact transmitter (with integrated ultrasonic sensor) or remote transmitter for panel or wall mounting and connection to the Bürkert 8170 sensor. Find out more here.
What is a temperature transmitter?
A temperature transmitter, or digital temperature gauge, is an electrical instrument that interfaces a temperature sensor (e.g. thermocouple, RTD, or thermistor) to a measurement or control device (e.g. PLC, DCS, PC, loop controller, data logger, display, recorder, etc.). Find out more about the Bürkert Type 8400, an intelligent sensor/switch with an extra large display, here.
Speak to BM Engineering Supplies today about our complete range of Bürkert instrumentation by calling 0141 762 0657 or email sales@bmengineering.co.uk.