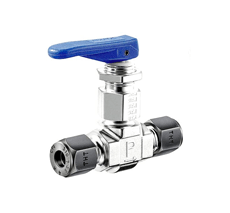 Thu 19 Jan 2023
What is the difference between a ball valve and a needle valve?
Ball and needle valves can both be used in factory and warehousing equipment, food processing and other industries. This is due to their dependability, long operating life and adaptability. To find out the difference between needle and ball valves, continue reading this guide.
What is a ball valve?
A ball valve is a valve that uses a pivoting ball to control the flow of a fluid. This ball is not solid as it has a channel running through its core, enabling fluid to pass through when the valve opens.
Ball valves can only be set up in a quarter-turn function. This 90-degree motion allows the valve to be opened and closed manually by an operator. Due to this function, it's straightforward to see whether the valve is open or closed, based on the position of the handle.
Benefits of a ball valve
Now you know what a ball valve is, it's useful to understand the benefits of a ball valve, which include the following:
Adaptable to a variety of uses and applications
Features low pressure drops when open
Full port ball valves keep flow constant
Reliable and reasonably priced
The valve seat cleanses itself when the ball rotates
There are a couple of disadvantages associated with a ball valve, though. The first is that a ball valve isn't appropriate for permanent throttling or accurate flow control. Also, in the event that fluid particles clash with surfaces within the application, there is a risk of leakage.
What is a needle valve?
Needle valves are used for flow control. The needle-shaped plunger within the valve is controlled by a threaded rotating stem mechanism. This allows for highly accurate flow control and throttling. A needle valve's opening and closing settings can be adjusted very accurately. However, it can be difficult to quickly switch from fully open to fully closed – and vice versa – because it can take up to six full revolutions to achieve either.
Needle valves are also known to perform well under extreme temperatures, situations of high pressure and high vibration, and boast a long lifespan. Furthermore, due to significant pressure drops when a needle valve is opened, they make control tasks and process measurements much easier to perform.
Benefits of a needle valve
There are many benefits to using a needle valve to control the flow of media within your application, such as:
High-end precision
Resistant to both hot and cold temperatures
Effective at withstanding high pressures and vibrations
While open, they promote a decline in high pressure
One disadvantage of needle valves is that the open and close status is often difficult to determine, unlike its ball valve counterpart.
Needle valve vs ball valve
So, what is the difference between a needle valve and a ball valve? If you have an application that requires a quick opening or closing, a ball valve is more appropriate. A ball valve's quarter-turn open and close function makes it extremely easy to shut off and determine its open-or-close status.
Needle valves, however, are preferable when an application requires highly accurate flow control because the plunger's position can be altered. In a situation that requires a rate of high flow, ball valves are a better option because needle valves experience a pressure drop.
Another major difference between needle and ball valves is their control element. Ball valves have a handle that makes opening and closing very easy, while a needle valve is operated by a wheel, which takes much longer to open or close in comparison.
There are other design differences between the two valve types. For example, a needle valve has a pointed shaft that's forced up against a seat that's lifted or decreased by a screw attached to the top of the handle. For a ball valve, a sphere is sandwiched between a gasket and has a gap with the same bore as the inlet connection. This is connected to a stem which is then attached to the handle.
Valves at BM Engineering Supplies
BM Engineering Supplies offers a wide range of high-quality ball valves. Our ball valves are durable and reliable and are capable of a consistent level of dependable performance, even after many cycles.
Our ball valve types include:
General-purpose two-piece ball valves
Stainless steel ball valves
V-ball control valves
Heavy-duty ball valves for steam applications
If you'd like to speak to a member of our team about your application's requirements and valve specification, don't hesitate to contact us on  0141 762 0657 or email us at sales@bmengineering.co.uk.