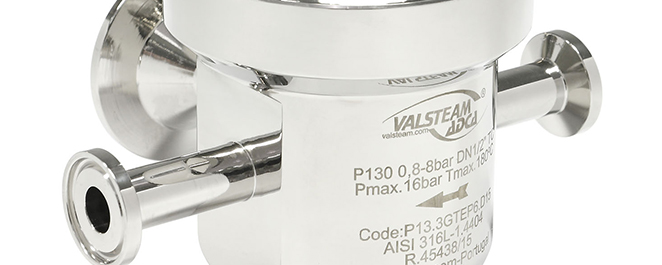 Sat 5 Jan 2019
Why use sanitary valves from Valsteam ADCA?
For demanding industries that require high-performance purity systems, sanitary valves from Valsteam's ADCA Pure range are peerless. This range of sanitary equipment delivers unparalleled clean and sterile processing for a wide range of applications. In this informative article, BM Engineering discusses why you should consider making ADCA Pure sanitary valves your first choice valves.
Santiary valves from Valsteam ADCA
As Valsteam ADCA's reputation and product line has grown over the years, so too has the need to service clean steam and industrial gases and fluids. ADCA Pure valves were created to deal with these specific media types, targeting demanding industries with complex purity systems, such as those found in pharmaceuticals, chemical processing or food and beverage.
The key focus of Valsteam's sanitary valves is to keep energy efficiency and system reliability at the core, whilst ensuring total compliance with quality standards. To achieve this, all of their ADCA Pure products are subject to tight specifications and requirements during the manufacturing process. 
Utilising non-contaminated assembling environments and state-of-the-art machining, Valsteam ADCA engineers are able to craft advanced hygienic and sanitary valves. The two focal products in their sanitary range are pressure reducing valves and pneumatic control valves. 
Sanitary pressure reducing valves
The most extensive sanitary valve selection in the ADCA Pure collection is Valsteam's pressure reducing range. Their sanitary pressure reducing valve range is specifically designed for high purity gas systems, meaning they are well equipped for industrial gases and liquids. 
The three main sanitary pressure reducing valves in the Valsteam ADCA catalogue are the P130 series, P160 series and P173 series. Although the P130 has multiple variants with unique features, these three are arguably the most commonly sought after sanitary pressure reducing valves from Valsteam ADCA.
The ADCA P130 series is completely machined from stainless steel to assure the highest cleanliness when in use. The ADCA P160 series is completely machined from bar stock material and features a lock system for clean-in-place (CIP) and sterilisation-in-place (SIP) operations. Whilst the ADCA P173 series features the ability to include bottom drain connection if desired.
Sanitary pneumatic control valves
Valsteam ADCA's range of pneumatic control valves for sanitary equipment is slightly smaller but no less effective at dealing with clean steam or industrial gases and liquids. Their pneumatic control valves are often sought after for dealing with clean steam and in demanding applications. The two primary sanitary pneumatic control valves from ADCA Pure are the PV926H and the PV928.
Both the PV926H and the PV928 sanitary pneumatic control valves are designed to ensure accurate control in any process environment. Their self-draining designs make them ideally suited to clean service applications, whilst maintaining compatibility for industrial fluids and designs. 
Leading sanitary valve suppliers
At BM Engineering, we pride ourselves on the range of hygienic and sanitary equipment that we can supply. As Valsteam ADCA is one of our trusted suppliers, we can supply their full range of ADCA Pure pneumatic control and pressure reducing valves.
To purchase Valsteam ADCA Pure sanitary valves in Scotland and the UK, or to learn more about our range of sanitary valves, get in touch with BM Engineering Supplies today on 0141 762 0657 or email sales@bmengieering.co.uk.