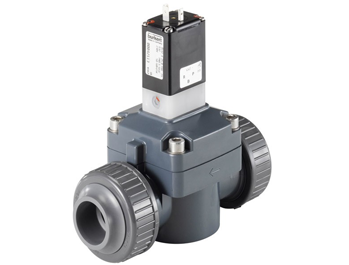 Wed 12 Oct 2022
How are solenoid valves used in refrigeration systems?
Wherever fluids need to be controlled, you will generally find solenoid valves. These electromechanically operated valves undertake a wide range of fluid control applications with unerring accuracy and reliability. One industry that benefits from solenoids is the heating, ventilation, air conditioning, and refrigeration (HVAC-R) sector. Here, BM Engineering explores the function of a solenoid valve in a refrigeration system.
What is a refrigeration solenoid valve?
Solenoid control valves are electromechanically operated to convert electrical energy into mechanical energy. They are typically used to automatically regulate the movement of gas or liquids, removing the need for manual operation. For example, the primary function of a solenoid valve in a refrigeration system is to control the flow of refrigerants. The performance of such a system is typically maintained by a simple on/off function.
How does a refrigeration solenoid valve work?
In large refrigeration plants, multi-cylinder compressors are connected to solenoid valves and activated using the compressor's discharge pressure. The role of the solenoid is to move refrigerant to all the necessary parts of the refrigeration cycle. This includes from the compressor to the condenser. When no cooling is needed, the solenoid valve is closed, directing refrigerant to a suction valve instead of the condenser.
How to replace a refrigerator solenoid valve?
There are several considerations to bear in mind when replacing a refrigerator solenoid valve, including the following factors:
Direct-operated or servo-assisted
Solenoid valves are either direct-operated or servo-operated, with the latter more often favoured in larger systems. When specifying a servo-operated solenoid valve, it is vital to ensure that the differential pressure and partial load is higher than the valve's minimum differential pressure.
Normally closed or normally open
Solenoid valves can be classed as either normally closed or normally open. As the name suggests, normally closed valves are closed when de-energised, whereas normally open valves remain open. If the solenoid valve is installed in the liquid line, a normally closed solenoid is generally the better option. This ensures the valve remains closed even when the system isn't running or the power supply has been disrupted. However, if the valve only needs to be closed for brief periods, a normally open valve will suffice.
Valve materials
Given the nature of the fluid involved in refrigeration applications, it is important to specify a solenoid valve made from materials that are compatible.
Safety standards
Finally, any solenoids used for refrigeration must adhere to certain safety standards, such as ATEX for explosive atmospheres and Pressure Equipment Directive (PED) standards for pressure equipment.
How to size a refrigeration solenoid valve?
Sizing a solenoid valve for a refrigeration application takes a little leg work to ensure the best results. Firstly, it is important to understand whether you require a direct-operated or a servo-assisted solenoid valve. If your solenoid valve contains neither a piston nor a diaphragm, it is likely to be a direct-operated valve. In this case, you can opt for a valve with smaller connections ranging from 6mm to 10mm.
In larger refrigeration systems, servo-assisted valves are preferred. Like direct-operated solenoids, they do not require any minimum pressure drop to operate. However, the actual pressure must not fall below the minimum pressure drop in all partial load states for a servo-valve to function efficiently. Sufficient maximum working pressure and maximum operating pressure differential will also ensure reliable operation and longer service life.
Where to buy a refrigerator solenoid valve?
BM Engineering is proud to supply high-quality solenoid valves from industry-leading manufacturer, Bürkert. Our selection of general-purpose solenoid valves, including direct-acting and servo-assisted valves, are ideal for various neutral media applications. Unlike pneumatic solenoid valves, general-purpose models can be used to treat a variety of media types, including inert gases, water and oils, and compressed air. 
General-purpose solenoid valves are found across many industries, including the heating, ventilation, air conditioning, and refrigeration (HVAC-R) sector. Our experienced sales engineers will be only too happy to discuss your requirements with you. Then, having gained a deeper understanding of your needs, our team will recommend suitable solenoid valve options based on the parameters of your refrigeration application. 
For more information about solenoid valves or to discuss your application requirements in more detail, please contact us on 0141 762 0657 or email sales@bmengineering.co.uk.