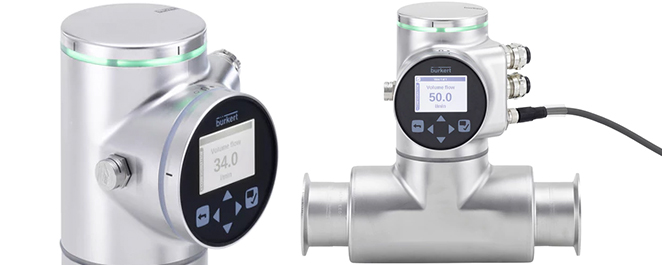 Thu 11 Feb 2021
How surface acoustic wave technology has transformed flowmeters
The Burkert FLOWave flowmeter is innovative in its use of the kinds of technology usually found in seismic activity measurement equipment. Measuring volumetric flow through surface acoustic wave technology, the data collected is extremely accurate and available in real-time to integrate with other systems. The design of the flow meter brings numerous other advantages too, particularly for industries where hygiene is critical. We take a closer look at surface acoustic wave technology and how it is being used in flowmeters. 
How does a Burkert FLOWave use surface acoustic wave technology?
The patented SAW (surface acoustic wave) technology incorporated into the Burkert FLOWave uses wave propagation to measure the volumetric flow within a pipe. The outside of the pipe holds interdigital transducers, each behaving as a transmitter or receiver and collecting data on amplitude, frequency and run times through surface acoustic waves, similarly to the equipment used for measuring seismic activity. 
Why do surface acoustic waves outperform traditional flow measurement methods?
Some of the other common flow meters used in pharmaceutic applications include turbine flow meters and Coriolis flow meters. A turbine flow meter measures the velocity of fluids as they travel through its bladed turbine rotor. This method causes a slight pressure drop, which is often considered negligible, but they do require a constant throughput and backpressure, so are not suitable for all applications. Turbine flow meters are, however, considered to be a cost-effective solution. 
Coriolis flow meters use the principle of motion mechanics to measure the vibration and subsequent phase shifts of a flow of liquid through a pipe. The key benefit of a Coriolis flow meter is that it can measure both liquids and gases. 
Surface acoustic wave flow meters have the distinct advantage of having no devices or equipment inside the tube or pipe. This means that there is no interruption to the flow and no empty spaces to cause pressure drops. Most importantly for hygienic processing industries, there is no risk of contamination; the fluid does not come into contact with any of the sensors, and because they are outside of the pipe, CIP and SIP are ideal cleaning methods as the sensors cannot be affected by the temperatures or chemicals used. The FLOWave flowmeter is ideal for use with water-similar liquids and can be adapted to work with higher viscosity liquids if required. Additionally, the FLOWave offers an option to measure temperature, reducing the need for additional equipment. 
Why is surface acoustic wave technology the way forward for flow measurement?
Not only does the Burkert FLOWave outperform all the other options in terms of hygiene levels and providing a solution which is non-impactful on the flow itself, but because it uses digital communication, the data produced by the surface acoustic waves through the transducers can be transmitted via the EDIP electronics platform to integrate with other devices. The FLOWave is designed with Industry 4.0 in mind, providing total connectivity for the processing plant and allows for real-time decision making based on live, accurate information. 
Surface acoustic wave technology is changing the way that the processing industry views flow measurement; no longer does the flow have to be mechanically interrupted in order to measure throughput, allowing a much more modern technological approach and also enabling the highest sanitary conditions to be met and maintained. 
For more information on our Burkert FLOWave flow meter, talk to one of our engineers who would be happy to guide you through the surface acoustic wave technology solution that has transformed flow meters for pharmaceutical processing. Contact us on 0141 762 0657 or email sales@bmengineering.co.uk