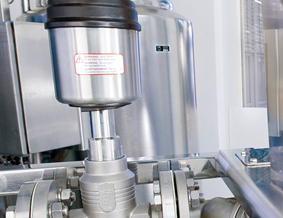 Fri 19 Jan 2018
Valves for CIP and SIP applications from Bürkert
Exceptional cleanliness is the number one priority in hygienic applications, such as food processing. That's where BM Engineering Supplies can help, with Bürkert's range of precision valves for CIP and SIP applications.
Hygiene is of the utmost importance within the food industry, which is reflected by the way in which an IFS Food Audit, for example, scrutinises cleaning and disinfection processes to ensure that they provide effective coverage. For many manufacturers, this will involve CIP methods to ensure that the manufacturing facility is safe.
Clean-in-Place (CIP) and Steam-in-Place (SIP)
Controlling these processes reliably and effectively requires the use of automated control valves that are integrated with the main production control system and designed to withstand high temperatures and aggressive cleaning media.
Clean-in-Place (CIP) and Steam-in-Place (SIP), or Sterilisation-in-Place systems are designed for automatic cleaning and disinfecting without major disassembly of the process line. In more automated applications, individual lines can be isolated from the rest of the manufacturing process to enable the cleaning process to be completed without affecting productivity.
Initial assessments of any system should identify the influencing factors, such as temperature, pressure and cleaning media properties. All of these will affect the design of the control valves and especially the valve body material, internal valve seat and seals, where chemical resistance properties will be crucial in delivering reliable operation.
Comprehensive range of valve body, valve seat and seal materials
Bürkert offers a comprehensive range of valve body, valve seat and seal materials that can be employed in both caustic and acidic detergent regimes while are also capable of operating at higher temperatures. Materials include high grades of stainless steel combined with various plastics such as PVC-HT, PP/PE, PA, PTFE, PVDF, PPS and PEEK, depending on the acidity, alkalinity or temperature of the medium and the cleaning fluid.
Effective CIP/SIP processes initially require careful design of the process pipework that eliminates any dead legs, and split routes while minimising the number of 'T' joints. In this way every surface within the process pipework receives equal coverage. This is coupled with an integrated control system that allows the cleaning processes to be coordinated with the manufacturing process to maximise productivity while preventing cross-contamination.
Bürkert is able to test cleaning cycles and provide 100% reliability on the flow properties and cleanability of a complete valve assembly by using a riboflavin test rig; something few manufacturers can offer. In hygienic applications where CIP is operated, it is essential to be able to ensure the cleaning cycle is both effective and efficient; a criterion which can be completely fulfilled and demonstrated by Bürkert.
Products to suit every application
With a wide range of valves and valve actuators, Bürkert offers products that can be designed to suit every application including those that have limited space available. Supported by expert design and application engineers, the Bürkert product range includes innovative modular valve bodies, such as the Type 2000 INOX valve, that can be close-coupled and assembled into flexible, lightweight and cost effective manifolds that reduce the volume of connecting pipes substantially.
These can be used with the latest Element actuators with smooth stainless bodies designed for washdown environments, offering excellent control and precision with minimal installation costs.
Speak to BM Engineering Supplies today about our complete range of Bürkert instrumentation by calling 0141 762 0657 or email sales@bmengineering.co.uk.