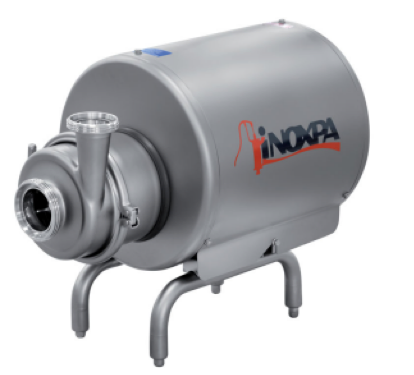 Sun 20 Jan 2019
Why use hygienic pumps from Inoxpa
As market leaders in the hygienic sector, Inoxpa never fails to deliver reliable hygienic equipment – Whether it be hygienic stainless steel pumps to advanced centrifugal pumps. In this informative article, BM Engineering discusses how you can improve processes in your industry with hygienic pumps from Inopxa.
Hygienic stainless steel pumps from Inoxpa
Processes that require the highest degree of cleanliness will often look toward hygienic stainless steel pumps as a possible solution. For example, the food and beverage and dairy industries deal with media that will need to be safe for human consumption. It is here that hygienic stainless steel pumps are used to ensure there is no contamination within the process. 
The benefits of Inopxa hygienic stainless steel pumps come from their sanitary and cost-efficient design. Designed according to EHEDG standards, Inoxpa's stainless steel pumps are meticulously manufactured to ensure their compatibility with the strictest hygienic requirements. Products such as hygienic rotary pumps and their ASPIR side channel pumps can improve food processing by offering CIP return and effective filtration respectively. 
Whilst both of the aforementioned products help to maximise the potential of sanitary processes, the most efficient equipment for achieving this is undoubtedly Inoxpa's range of hygienic centrifugal pumps. 
Hygienic centrifugal pumps from Inoxpa
The main advantage of hygienic centrifugal pumps when compared to other hygienic equipment is the ability to provide a steady delivery of sanitised media. Acknowledging this, Inoxpa has created a range of advanced hygienic centrifugal pumps. Some work better with certain media types, while others are better suited to specific processes and industries. However, the common theme linking these centrifugal pumps is that they all utilise the stainless steel design highlighted above.
For example, the food-grade Hyginox SE centrifugal pump's sanitary design makes it well suited as a main process pump within the dairy industry. This particular hygienic centrifugal pump is made of a cold-formed stainless steel casing, stainless steel open impeller, mechanical seal, pump cover, lantern and shaft. All of which is connected to the motor shaft by mechanical compression. The Hyginox SE centrifugal pump features a motor that conforms with IEC standards, a stainless steel shroud and height adjustable, hygienically designed legs.
A suitable alternative would be the DIN-Food hygienic centrifugal pump. This high capacity hygienic centrifugal pump is capable of 1000 m³/h, catering for food-processing and ultra-filtering applications in the food and beverage industries. Housed inside stainless steel casing, the impeller rotates in conjunction with the pump shaft. Because of this unique arrangement, the impeller blades inside the DIN-Food pumps are able to convey both kinetic and pressure energy to the media type.
Leading hygienic stainless steel pump suppliers
BM Engineering supplies a wide range of hygienic stainless steel pumps ranging from centrifugal to self-priming, rotary lobe and progressive cavity pumps from Inoxpa.
To purchase hygienic pumps in Scotland and the UK, or to learn more about our range of Inoxpa products, get in touch with BM Engineering Supplies today on 0141 762 0657 or email sales@bmengieering.co.uk.