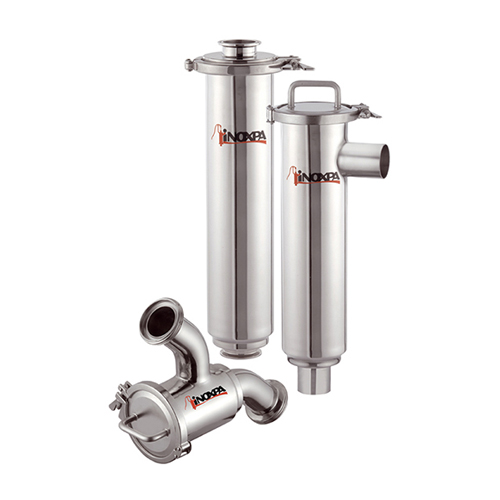 Fri 26 Jul 2019
INOXPA hygienic filters to suit your process
If you work in an industry that utilises pumps or other hygienic equipment, chances are such machinery will be exposed to damaging particulates. If left untreated, these particulates are capable of leaving lasting damage only affects the performance of hygienic equipment but the purity of any media that they produce. For process industries with strict hygienic requirements, leaving particulates undealt with can leave you with costly downtime for your business.
In this article, BM Engineering discusses how to filter particulates out of the process with hygienic angular filters. Focusing on the 82700 and 81700 angular filter models from INOXPA, learn how to improve your hygienic processes with BME.
INOXPA 82700 angular and 81700 straight filters
Featuring sanitary designs, INOXA 82700 angular and 81700 straight filters are manufactured from AISI 316L stainless steel to ensure suitability for even the most hygiene sensitive applications. For INOXPA 827 angular filters, these consist of a filter body with an inlet and outlet connection. INOXA 81700 straight filters have the distinction of ensuring the chosen media type enters and leaves in the same direction.
The most vital component of both INOXOA filters is the screen housed inside the body to retain damaging particulates. It is these screens that allow for the filters' working principle; retention of all particulates that are equal to or larger than the size of the screening openings. This function is what allows the INOXPA filters to ensure that pumps and other equipment remain free of damaging particulates. 
Additional features for these INOXPA filter types include their EPDM seals with an operating temperature range of -10°C to +120°C and clamp or weld end connections to ASME BPE standards. Typical applications for INOXPA 82700 angular filters and 81700 straight filters include:
Food processing

Chemicals

Cosmetics

Auxillary

Pharmaceuticals
Hygienic filter distributors
INOXPA's angular and straight filters make up part of our extensive range of hygienic equipment. Here at BM Engineering, we can supply your business with a complete range of INOXPA hygienic equipment to match your process requirements. From hygienic valves and pumps to complete skid systems, we can provide your business with peerless hygienic and sanitary instrumentation products. Speak to BME today on 0141 762 0657 or email sales@bmengineering.co.uk