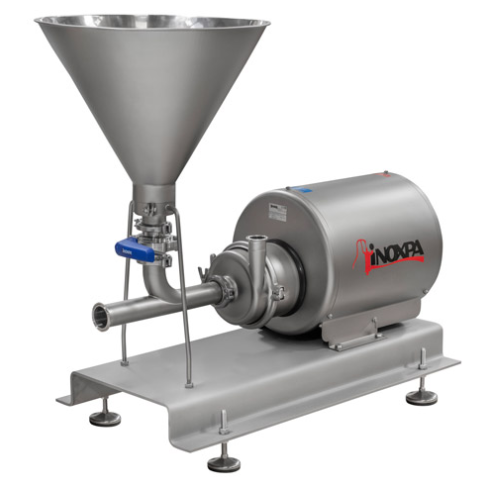 Tue 27 Aug 2019
INOXPA blenders for the process industry
For businesses that require batch or continuous production, the blending of powder ingredients is a stringent and delicate process. Powder blending equipment includes many essential sanitary components that are used for mixing applications within the process industry. But due to the unique requirements of each product manufacturing business, it can sometimes be difficult to choose the right industrial powder blenders to achieve the preferred results. This is why BM Engineering Supplies is here to help narrow down your search.
As a leader in all things hygienic and sanitary, the only manufacturer to guarantee optimal performance within this field is INOXPA. INOXPA blenders are tailor-made for hygienic and sanitary processes and can guarantee results like no other product on the market. Read on as we discuss why you should consider INOXPA's range of industrial blenders for powder mixing applications within your industry.
Why choose industrial powder blenders from INOXPA?
Part of our hygienic equipment range, INOXPA blenders are very simple and versatile systems. These qualities make them ideal for fast and homogenous mixing of a wide range of products and media types without contact with the atmosphere. 
As standard, all industrial blenders from INOXPA are manufactured from AISI 316L and feature hygienic designs. This makes them ideally placed for process applications that  require strict hygienic requirements. Cleaning and disinfection functions can also be completed without disassembly. 
Now that we've examined the distinguishing qualities of INOXPA's industrial powder blenders, let's take a closer inspection of the product range itself.
INOXPA powder blenders
The two primary models of INOXPA's standard powder blender range are the M-266 and the M-440. INOXPA powder blenders are used to mix solids in liquids. They consist of a casing and centrifugal pump impeller that are mounted vertically. The suction side of the powder blender has a double-wall pipe, which keeps the inlet of solids separated from liquids. This avoids lumps forming before the material enters the casing. 
Liquids enter the mixing chamber at high speeds, which creates a vacuum effect at the centre of the impeller and causes suction of the solid materials. The introduction of these materials can be regulated via the valve situated at the bottom of the hopper.
For food processing applications, INOXPA powder blenders provide a sanitary-friendly solution for reconstituting powdered milk, making syrups, and preparing brines, among other applications. While for pharmaceutical and cosmetic applications, INOXPA powder blenders are ideally suited for preparing solid-liquid mixtures. 
INOXPA horizontal powder blenders
The two primary models of INOXPA's horizontal powder blenders are the MH-20 and the MH-26. Capable of performing the same operations as their standard counterparts, INOXPA horizontal powder blenders are used to dissolve solids and powder products into a liquid, which is promptly recirculated into a tank.

Horizontal powder blenders are limited to the suction of small amounts of solids, due to the fact that they have  notable bags and feature a smaller hopper. These compact units consist of a centrifugal pump with venturi system on the suction side, as well as a hopper with a butterfly valve above to add solid or powdered products to the pumped liquid. 
The venturi system and function of the pump creates a negative pressure at the base of the hopper. When the valve of the hopper begins to open, solids are drawn in and dissolved within the liquid as they pass through the pump casing. 
To achieve the best possible dissolution for batch production applications, it is recommended to recirculate the product until all the solid or powdered product has been suctioned into the horizontal powder blender. Once the solid product has been completely incorporated into the liquid, resume recirculation until dissolution has been achieved. 
INOXPA table blenders
The final product in  INOXPA's powder blending equipment range is their table blenders. Like its counterparts, INOXPA's MM table blenders are also used to dissolve solids and powders into recirculated liquids. However, this model has the distinction of an optional in-line mixer for a complete dissolution of potential lumps. 
In operation, INOXPA table blenders are virtually identical to horizontal powdered blenders. However, there are notable differences that set these two industrial powder blenders apart. Firstly, the butterfly valve featured here is manually actuated. Secondly, the hopper featured here is welded to the table with a totally smooth, easy-to-clean surface. Other notable features include a control panel with stop/start and motor protection, skids with wheels and breaks, as well as clamp drain ports for total drainage of the skids.
Typical applications for INOXPA table blenders include the reconstitution and stabilisation of milk within dairy production, as well as the dissolution of sugar within syrups during beverage production. They can also be used for the preparation of pharmaceutical syrups and the dissolution of pectin in glucose marmalade production. 
Buy powder blending equipment from BM Engineering Supplies
Here at BM Engineering Supplies, we can provide INOXPA's full range of powder blending equipment to match an array of process manufacturing requirements. We provide INOXPA's range of industry-leading hygienic equipment to customers right across  Scotland. 
To discuss your  powder blending and mixing requirements , speak with BME today on 0141 762 0657, or email us at sales@bmengineering.co.uk. Or if you'd like to complete our online contact form, we will help you to find the right solution for your application and  industry.