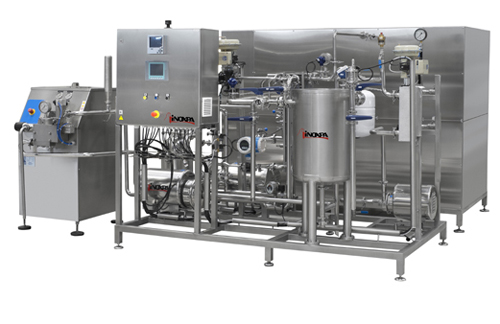 Fri 27 Sep 2019
Why INOXPA mini dairy farms can help milk the profits
Dairy production just got a serious update, thanks to specialist manufacturers INOXPA. INOXPA's mini dairy farms are providing the dairy industry with a means of streamlining production lines, thanks to these advanced, mobile dairy plants. As distributors to the Scottish dairy industry, BM Engineering Supplies is always keen to highlight industry-leading dairy production equipment that can benefit our customers. In this article, we discuss why INOXPA mini dairy farms should be at the heart of your production processes.
INOXPA mini dairy farm features
The biggest selling point for choosing INOXPA mini dairy farms is their versatility. These mobile dairy plants allow for manufacturers to commence with the production of specific dairy products, whilst having the capability of expanding the plant should they wish to produce other dairy products at a later date by adding new modules.

INOXPA dairy farms present businesses within the dairy industry with a complete, turnkey solution that's ready to use from the word go. INOXPA's mini dairy plants are capable of operating at a diverse range of between 500 to 5,000 litres per hour for pasteuriser production. Best of all, they are designed for easy installation and transportation, should a quick relocation be required.
Which dairy processes can benefit the most from INOXPA mini dairy farms?
While we maintain that INOXPA dairy farms present universal appeal for the dairy industry, there are certain production processes which can stand to gain more than others. Here  are the processes that can benefit the most from an  INOXPA dairy plant solution:
Liquid milk reception

Reconstitution of powdered milk

Heat treatment

Preparation for post-processing of milk

Milk packaging

Cheese production

Yoghurt production
These processes are available as customisable modules for INOXPA's dairy farms, meaning you can customise and add additional functions to your dairy plant at your convenience.
For example, if you needed your  INOXPA dairy production equipment to perform liquid milk reception, the two modules to be used here would be a combination of reception skid and a skid for reconstituting powdered milk. The reception skid allows liquid milk coming from farms to be collected, filtered, measured, cooled and later stored in a thermally insulated tank. 
While the secondary skid consists of the aforementioned thermally insulated tank, which is connected directly to a blender. Together, they mix and recirculate powdered milk with water to obtain the reconstituted product that can be used either directly or mixed with liquid milk from the primary module. 
For milk packaging operations, INOXPA mini dairy farms use a vertical thermally insulated tank and a packaging machine as the required modules. Here, the tank acts as a buffer, ensuring no interruptions during the pasteuriser operation, while the packaging machine can perform it's required function seamlessly.  
For yoghurt production, INOXPA mini dairy farms can produce both set and whipped yoghurt products. Set yoghurt production primarily utilises a fermentation tank to allow the pasteurisation of milk to be maintained at it's required fermentation temperature. Once the culture is added and mixed evenly, the finished product is transported to a corresponding yoghurt container for the final fermentation stage. 
By comparison, the fermentation process for the production of whipped yoghurt occurs solely within the fermentation tank. Once the product has developed its desired characteristics, it is then whipped, cooled and packaged. 
Buy INOXPA dairy production equipment
INOXPA mini dairy farms make up part of BM Engineering Supplies' extensive range of hygienic equipment. Along with INOXPA's other dairy production equipment, we can provide your business with a wide range of dairy technology to help improve your processes. 
Whatever your dairy production requirements, our dedicated team will help match the right process equipment for your industry type at competitive prices. Speak with BME today on 0141 762 0657, email sales@bmengineering.co.uk or complete our online contact form and a member of our sales team will get back to you as soon as possible.