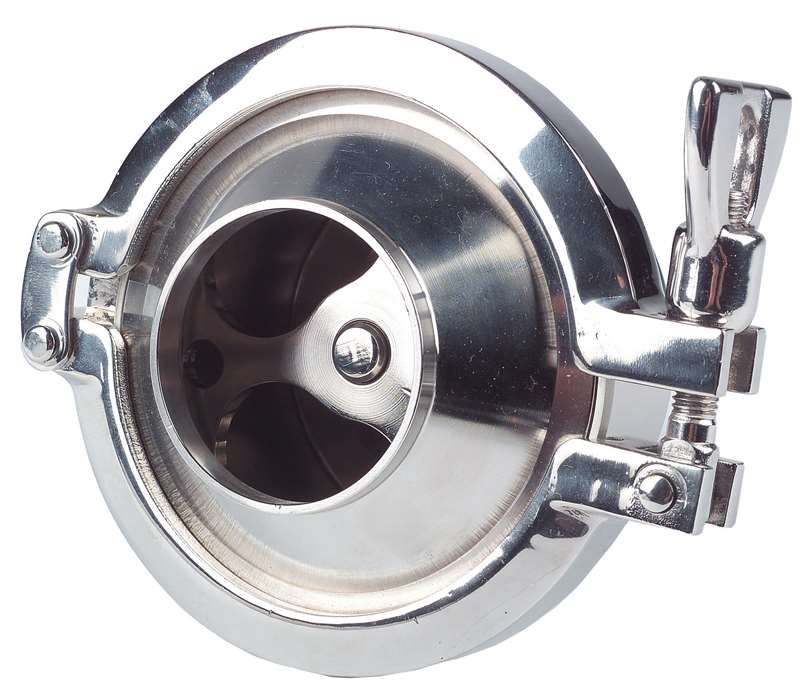 Mon 18 Feb 2019
The essential guide to sanitary valves
When optimal cleanliness is required for the strictest hygienic processes, sanitary valves offer superior performance. Designed for use in applications that rely on clean or sterile processing, such as food and pharmaceutical, sanitary valves are the most effective means of ensuring that products are fit for human consumption.
It is important that the right sanitary valves are used with the right applications. Here at BM Engineering, we pride ourselves on enabling our customers to make an informed decision. That is why we have devised this comprehensive guide to assist your decision-making process.This guide will break down the different types of sanitary valves available, their unique features and the applications that they suit.
What are sanitary check valves?
Let's begin with sanitary check valves. Sanitary check valves are used to prevent back-flow within hygienic processes. As standard, they feature two ports to allow for entrance and exit respectively, meaning flow is often linear.
Much like traditional check valves, sanitary versions are usually automated. This means that plant operators can entrust these valves to do the work for them. In sanitary processing, check valves will typically be manufactured from 316L stainless steel to ensure contamination-free, clean-in-placement (CIP) service.
 Sanitary check valves often feature a spring-less design, eliminating any concerns about media or particle contamination and are fully drainable. Pharmaceutical applications, in particular, would benefit from using sanitary valves, such as the 72700 check valve from industry-leaders, INOXPA. This compact, stainless steel check valve features a compact design with easier assembly and disassembly to help reduce downtime.
What are sanitary control valves?
Whilst sanitary check valves are independently actuated, more highly-sensitive hygienic processes will require the utmost attention to detail. Sanitary control valves enable direct control of flow rates and process quantities like pressure. Traditionally, they only require simple maintenance, and therefore offer plant operators a cost-effective CIP solution. In addition to CIP capabilities, sanitary control valves can also be applied to steam services, ensuring sterilisation with steam-in-place cleaning (SIP).
In such instances, we recommend using sanitary pressure reducing control valves from Valsteam ADCA. All of their ADCA Pure sanitary control valves, such as their pressure reducing P130 series, are subject to the most rigorous manufacturing standards.
What are sanitary ball valves?
One of the most commonly used sanitary valve types is the sanitary ball valve. Sanitary ball valves are opened by turning handles attached to the balls inside the valve itself. These balls have ports through the middle which, when in line with both ends of the valve, allow for flow to occur. When closed, this hole is vertical to the end of the valve and, as a result, blocks flow.
Sanitary ball valves feature a full-bore design that enables full fluid flow with a minimal pressure drop. This unique feature makes sanitary ball valves an ideal selection for either viscous liquids or liquids that contain particles. Such liquids are often found in the food and beverage, chemical and pharmaceutical industries.
Another advantage offered by sanitary ball valves offer is their durability. Most models are designed to provide perfect shut off, even after years of disuse. This makes them one of the toughest variations of sanitary valves available on the market today, hence their popularity.
What are sanitary butterfly valves?
Finally, we have sanitary butterfly valves. This type of sanitary valve is typically used to make fluid either stop or start flowing through sections of a pipe. They are among the most common sanitary valves seen in process applications. Their simple design allows media to be contained and then discharged whenever required.
Sanitary butterfly valves offer excellent durability and ease of use for a wide range of hygienic processes. One of their big advantages is that they are easy to install and maintain, meaning they are extremely cost-effective. In addition, sanitary butterfly valves possess the ability to close under pressure, forming a leak-tight seal. This attribute further highlights their durability, another advantageous trait for anyone considering this type of sanitary valve.
Leading UK sanitary valve suppliers
BM Engineering supplies a wide range of sanitary equipment, such as check and control valves. We also have a comprehensive selection of sanitary ball and butterfly valves available for various different hygienic and sanitary processes.
To purchase sanitary valves in Scotland and the UK, or to learn more about our range of sanitary equipment, get in touch with BM Engineering supplies today on 0141 762 0657 or email sales@bmengineering.co.uk.