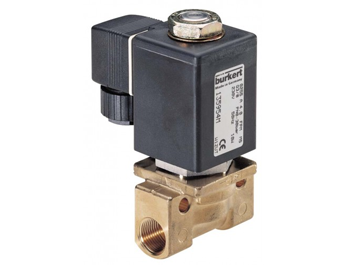 Wed 12 Oct 2022
How do air compressor solenoid valves function?
Compressed air is a valuable commodity in countless industrial environments to power a huge array of tools and automated processes. Wherever fluids like compressed air are controlled, solenoid valves are used for the purpose. But how does an air compressor solenoid valve function, and what are the benefits of using one? BM Engineering explains everything you need to know about air compressor solenoid valves right here.
How are solenoid valves used in air compressors?
Solenoid valves are electrically operated valves that control a wide range of fluids, including compressed air. An air compressor solenoid valve functions in several different ways. It takes in filtered air, sends it to the refrigerator, and keeps it pressurised inside the air receiver tank. 
A cut-off switch stops the motor when the required pressure is reached within the tank. This de-energises the valve, which then opens to exhaust any pressurised air from the circuit to ensure the compressor doesn't get damaged.
Different air compressor solenoid valve functions
Now that we have a general understanding of how an air compressor solenoid valve functions, let's take a broader look at some other ways solenoid valves can be used in compressed air systems.
Intake control
Solenoid valves are often used to manage the intake control or the inlet valve in screw compressors. Available as either de-energised opening or de-energised closing versions, these types of valves deliver higher energy efficiency, gentle start-up and a lower pressure fluctuation range. Thereby prolonging compressor service life. Proportional valves provide particularly accurate load and energy consumption in mobile compressors.
Pressure maintenance
Pressure maintenance valves maintain stable pressure in the compressor and the compressed air preparation unit. A pressure maintenance valve effectively interfaces the compressed air system and the network. Its job is to ensure a safe start-up at all times. In addition, the pressure-retaining valve protects the compressor and other air treatment components if the network draw-off is low.
Condensate drainage
Contaminated condensate is a natural by-product of the air compression process. This fluid must be drained and disposed of effectively to prevent damage to the compressed air system. A drain valve can perform this function whenever the compressor is switched on and during set operating intervals. Such a drain valve can be connected to a condensate treatment unit using a pipeline to deliver the best results.
Purge air and change-over
When compressed air is produced, the moisture is extracted from the compressed air using a membrane dryer. This is facilitated through purge air that comes directly from a pilot valve as and when required. This forms the basis of a highly energy-efficient process. Furthermore, change-over valves enable pressure surge-free change-overs in adsorption dryers and nitrogen or oxygen generators.
Upstream pressure shut-off
Inlet valves are routinely placed before a booster compressor to control the air supply during operation. These air compressor solenoid valves function so that when the inlet pressure drops too low, they close automatically. This helps the booster compressor to draw in treated and pre-compressed air from an existing network or another low-pressure compressor and increase the pressure.
Air compressor solenoid valves at BM Engineering
BM Engineering supplies a huge range of solenoid valves from industry-leading manufacturer, Bürkert. Their selection of 3/2-way pneumatic solenoid valves, featuring three ports and two states, is popular for controlling a wide range of pneumatic equipment. In addition, pneumatic solenoid valves are a natural fit for compressed air applications, delivering a reliable and cost-effective solution that you can depend on.  
Bürkert have a range of valves that are suitable for different applications. Their high performance valves can be used individually or in blocks to deliver high flow rates with minimal power consumption. For example the Bürkert Type 6013 that can purge air as required and ensure energy-efficient operation of the membrane dryer. 
For more information about pneumatic solenoid valves or to discuss your application requirements in more detail, please contact our sales team on 0141 762 0657 or email sales@bmengineering.co.uk.