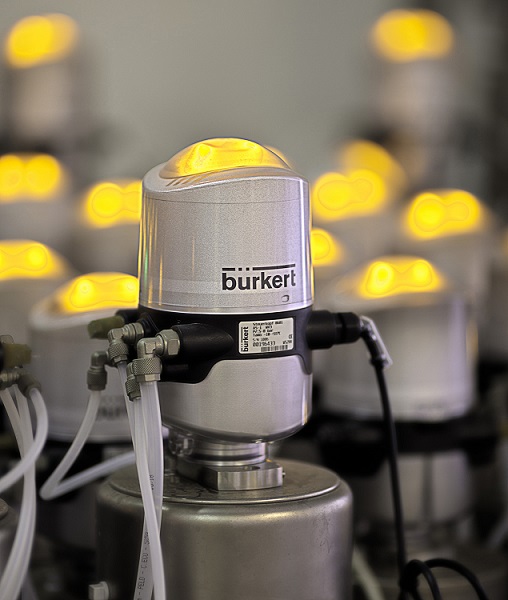 Wed 16 Aug 2023
What are the different control valve actuator types?
As industries require more out of their equipment and systems, technology has adapted to increase their uptime with automation making things faster, safer and more efficient. 
At BM Engineering Supplies, we provide a range of actuator types for control valves, including linear and quarter-turn actuators, which are compatible with our ball valves and butterfly valves, as well as others. We can also add control and indication features, such as position feedback, and Namur solenoid valves. 
These actuators allow the valves to be operated remotely in a system, providing a range of benefits to the user, including: 
       Valves can be operated more accurately and in synchronicity.

       Multiple valves can be operated at once with minimal effort. 

       Misuse or error in operating the valves is more easily avoided. 

       Remote or miniaturised processes are executed with ease. 
Read on to learn more about the different control valve actuator types we supply here at BM Engineering, and find out which option is best for your business. 
How do control valve actuators work?
Before the technology was available to automate the process, valves would have to be operated by hand. Actuators automate this process using electrics, pneumatics or hydraulics to operate valves remotely.
This has two key benefits:

       Valves no longer require a worker to physically operate them, freeing them up for more important work and mitigating the chance of human error in operation. 

       Remote actuation means that workers are less susceptible to dangerous environments, particularly with rapid operation or larger valves in a system.   
Control Valve Actuator Types
Control valves fall into two main categories: 
       Linear – These valves operate using a gate system that will open and close in a linear motion to control flow through pipes

       Rotary – These valves use a rotating method, such as a ball moving a quarter turn to open, close or control the pressure through the valve. 
The Control Valve Actuator Types at BM Engineering
ADCA PV16
At BM Engineering, we stock a large range of pneumatic actuator types for control valves. These use pneumatic pressure to move a valve into the desired position for the application. They are generally the cheapest, most cost-effective way of automating valve operation owing to their durability, simplicity of operation, easy maintenance and repair. 
One of the linear diaphragm-type pneumatic actuators we stock and highly recommend is the ADCA PA series, which is used on the PV16 and PV25 control valves. . This features pneumatic multi-spring actuators with a rolling diaphragm, offering decreased hysteresis and good linearity throughout the operating range. Depending upon what you require for your system, these are available in air-to-close and air-to-open versions, for modulating and on/off services.
Bürkert 8802 series
Another high-quality range of actuator types for control valves we recommend is the Bürkert 8802 series. The distinctive feature that these valves have that set them apart from others on the market is Bürkert's ELEMENT technology, which uniquely involves recycling air for the longevity of the valve.
With conventional control valve actuator types, ambient air is introduced to an actuator's chamber after spring decompression. Ambient air contains moisture and in humid and potentially corrosive environments, moisture and chemicals can rapidly corrode the valve's steel spring.
However, Bürkert's ELEMENT system ensures complete sealing and prevents ingress of moist, contaminated air. The clean, dry air used to pressurise the actuator is recycled back into the spring chamber through an integrated pilot valve, which prevents corrosion of the actuator spring and removes humidity build-up inside the actuator, which could potentially cause bacterial growth.
As a result of these features, ELEMENT actuators have a significantly longer lifespan compared to traditional designs. With an expected lifetime of seven million cycles, this is at least three times higher than usual standards.
SOMAS Type 'A' actuator
The SOMAS type 'A' actuator is a highly functional control valve actuator which is designed to meet the highest requirements for control and on/off applications. It features a design similar to a Scotch-Yoke actuator (which involves converting the linear motion into rotational motion, or vice versa). 
The distinctive specialty of this actuator type is that its torque output has been adapted to closely match the required torque for the full stroke of SOMAS valves. The actuators' low-friction seals provide a low starting torque. With low-friction, zero backlash between the actuator and valve occurs which optimises control performance greatly.
Find out more
At BM Engineering Supplies, we stock many control valve actuator types and associated products from the world's leading brands, including Max-Air, Bürkert, SOMAS and Kinetrol.  We also have in-house testing facilities for Exi and 4-20mA control valves. 
Various other types of actuated valves are available on request, such as angle seat valves, globe valves, diaphragm valves, 3-way valves as well as electrically actuated valves. No matter what the task, we're confident we can find the right product to suit your industry, however specialised it may be. 
If you need to know more about our products, you can view the range on our website. Alternatively, get in touch with us directly. Our knowledgeable team will give you honest advice and recommendations to help you make the most informed decisions to scale up your business' production.