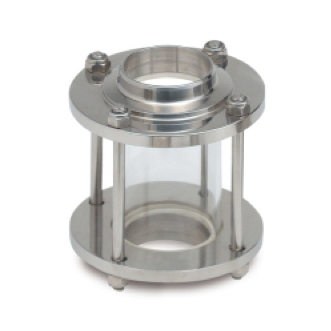 Wed 6 May 2020
How to select the right Sight glass for brewing?
Sight glasses are used to observe process steps in a number of industries including the brewing industry. BM Engineering Supplies have the knowledge and expertise to help you select the correct sight glass for your application. In this article, we aim to answer questions surrounding the use of sight glasses in the brewing process, including what sight glasses are used for.
What is a sight glass?
A sight glass, which is also known as a sight window or sight port, is a cylindrical window that allows for the safe and convenient viewing of the interior of a tank or pipe that contains a fluid.  For instance, in a brewing application; a sight glass is perfectly suited to assist brewers with observing the inside of a brewing tank or distiller without having to open the tank and disturb the internal mixture.
There are three types of sight glasses:
Tubular sight glasses act as a transparent tube through which the operator can observe the liquid level within a tank or boiler

Circular sight glasses contain a circular pane of glass through which an operator can view inside the vessel.

Sight flow glass is an in-line style sight glass that allows the flow of a liquid in a pipeline to be observed.
What are sight glasses used for?
Sight glasses are incredibly versatile and can be used in a wide array of applications.  Most coffee makers and espresso machines have some kind of fluid level gauge to monitor the mixture. Whereas, motorcycle engines have sight glasses to allow the rider or mechanic to visually inspect oil levels.  
With industrial sight glasses, the uses vary across an array of applications.  However, they are most regularly found in processes or plants in which liquid flow inspection and control is absolutely key.
Why use a sight glass in a brewing application?
Volume is one of the many essential measurements used within the brewing process.  Whether this is for the pre-boil volume to determine the end result or the round amount of water to sparge with; it is vitally important to consider the volume of water being fed into, and used, by your brewing process. 
A sight glass kit provides an easy and straightforward way to visually monitor the liquid levels of a particular tank or vessel to ensure that each and every single brewing process works exactly as it should and delivers the best beer possible! 
INOXPA sight glasses for brewing applications
As a leading sanitary specialist, INOXPA delivers second to none sight glass ancillaries for hygienic process applications, such as the brewing of various beverages. The INOXPA range of stainless steel sight glasses can either be supplied as a tubular, clamp or flat model to meet the requirements of your application. 
INOXPA clamp flat sight glasses feature a tempered glass cover attached by a clamp and allow for inspection of the product, level and process itself.  The INOXPA din clamp flat sight glass if perfect for food-processing applications, which also makes it most suitable for most brewing applications.  This sight glass range meets the stringent DIN requirements of the food process industry as they are fastened via a sanitary DIN union.  
INOXPA tubular sight glasses feature a stainless steel frame that delivers high levels of cleanliness and minimal contamination with a high level of resistance to corrosive chemicals.  This sight glass range makes for easy inspection of product flow and is often found in the food process, chemical and pharmaceutical industries; making them an ideal sight glass for use within the brewing industry. 
Suppliers of industrial sight glass for brewing
At BM Engineering Supplies, we can supply a range of sight glasses in tubular, clamp and flat, from specialist brands including INOXPA and Valsteam ADCA as part of our ancillaries equipment range.  BM Engineering Supplies can provide sight glasses in three different styles: tubular, circular or sight flow glasses.
For more information about our full range of sight glasses, and the ones best suited to a brewing application, speak to a member of our expert team at BM Engineering Supplies on 0141 762 0657 or email sales@bmengineering.co.uk. Alternatively, complete our online contact form and a member of our team will be happy to help.